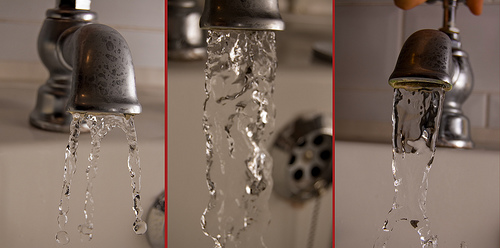 Water water everywhere, but not a drop to drink.
That's how my wife and I felt when we first moved back to my hometown. Our rental house was right across the street from a creek which runs through town.
A stinky, smelly, slimy creek.
I don't know if it was in our heads or if it was actually the case, but we could've swore the tap water tasted funny.  We also thought it was stinky, smelly, and slimy.
Which was too bad because we had recently became big time water drinkers.  The tap water in Minneapolis was pretty good, but we used a Brita Filter to make it even better.  But this time when we broke out our trusty Brita filter the water was still gross.
So we asked around and it turns out that most people in this town bought their water.  My wife gave me grief for not knowing this, but I told her I never drank water as a kid (I was a chocolate milk junkie) and had no idea it was such a problem.
So five years ago we started buying our drinking water.
When we became members of the local natural food co-op, we noticed that they had an ozone water filtration system in the store.  So we decided to give it a try.
The water was and still is delicious! The only problem was that I had to lug around these big jugs to get it.  We decided to keep a 3 gallon in the fridge, and have two other 5 gallon ones for convenience(unless you're the one carrying them).
It costs $0.40/ gallon, but we figured that it was worth it for the many health benefits drinking water provides. Such as:
Helps Regulates body temperature
Aids with digestion
Lubricates joints
Helps kidneys flush out toxins
Been known to help with weight loss
And it can give you an energy boost
We've been doing this for 5 years.  We thought our drinking water problem was solved.
But then my sister posted this video on her facebook page:
Even though we don't buy much bottled water, the trailer for Tapped scared us because it mentioned 5 gallon jugs might have BPA in them.  I remembered hearing about the fuss about BPA in baby bottles about a year or so ago. We ended up switching our son's sippy cup as a result of all the brewhaha.
But we didn't think of our water jugs at all.
And of course I watched this clip right after I just refilled 13 gallons.  So I guess I'll check out the store for some non-BPA jugs.  If I can't find any we'll go back to Tap Water. Heck we might make the switch even if I can find the BPA free jugs.
Tap water is much cheaper(At least that's what Zach Braf was been telling me).
And since I'm always looking for ways to trim our grocery expense I might have to break out our old brita filter again. Now if I can only remember where I put it.
How about you?
Do you embrace the fact that you are about 2/3 water and drink up, (tap or untapped) or do you hydrate yourself by other means?  Do you think "Tapped" is onto something, or should I tell my sister to stop scaring me?
Until next time,
-DD