I've never really been a coupon guy.  I don't know if this is because it seems like I never find coupons for the stuff I actually buy, or if I just don't want to take the time to cut them out and organize them.
Besides, I buy store brands to save money on my groceries so I never felt to the need to go through all the hassle that coupons entail.
But when I saw this video on consumerist.com, I thought maybe I should give it a try.
My two worlds (store brands & coupons) collided earlier this month when my local grocery store put out a savings book full of coupons for store brand items.
I thought I died and went to heaven.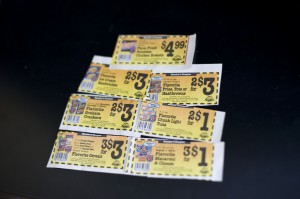 I went through and carefully picked out the ones I knew we would actually use.   I didn't want to use coupons just because they were there. That would defeat the purpose.
My Mother in law is guilty of this.  She is constantly buying stuff because she got a great deal.  Or at least she thinks it is a great deal.  Her freezers(yes plural) are full of stuff that she got because it was on sale. Heck, my freezer is half full because of stuff she got on sale.
But then she never eats the stuff and it goes to waste.  What a great deal!
Trying to avoid that I kept my list simple.
Mac & Cheese
Cereal
Tator Tots
Tuna
Chicken Breasts
Graham Crackers
Cheese
Ice Cream Sandwiches
Frozen Veggies
All the items on this list are in our normal diet, so I'm not too worried about having them go to waste. The only one that isn't, is the Ice Cream Sandwiches, and something tells me they will be the first to go.
So how much did I save?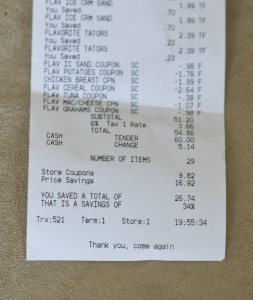 I didn't do as good as the lady in the video, but I was pleased with saving 34%.
In all honesty I thought I'd save more than I did.  Just by buying stuff on sale I usually have my savings in the 25% range every week.  So I was a little disappointed to only gain another 10%  by using coupons.  But savings is savings, so I'm not complaining too much.
Now that I've had a taste of using coupons will I continue to use them?
While I like the idea of saving money, I don't think I'll be playing the grocery game anytime soon. Instead I'll stay on the lookout for sales and take advantage of any coupons I find for stuff I normally use.
Actually we've been a roll lately keeping our grocery expense in check.  I think what has helped us the most is making a weekly menu based on what we already have and then only buying the extra items needed to make that week's meals.  It sounds simple, but actually having the discipline of doing it is the trick.
How about you?
What is your strategy for saving money grocery shopping?  Coupons, store brands, sales?  Are there tips/tricks I don't know about?  If there are, please share.  I know I'm not the only one who needs them.
Until next time,
-DD