A while ago I wrote about how I blew my grocery budget on a $11 hunk of cheese, I ended that post by asking for some budget friendly recipes.  Only Kristy from Master Your Card took me up, and I'm ever glad she did.
Her chicken dish was fantastic!
Here it is again for those of you who missed out the first time:
4 boneless chicken breasts
1 can cream of chicken (reg size is fine)
1 tablespoon of Season-All
Spaghetti noodles
butter
garlic salt

First, you boil the chicken with salt and pepper until they're just about done. This reduces overall cooking time and keeps the meat tender.

Transfer the chicken to a crock pot and cover with cream of chicken and about half a can of water. Add the Season-All and stir. Let simmer for about 25 minutes (less if you're cooking on high…just make sure the chicken is completely done).

While the chicken is cooking, boil water for the spaghetti noodles. I've found that if you add a cap full of olive oil, it enhances the flavor of the noodles, so I recommend it, but it's not necessary. Once the noodles are cooked, strain them and put them back in the pan. Add butter and garlic salt to taste.

Put noodles on a plate. Cut up chicken over the noodles. Ladle the cream of chicken sauce over the chicken and noodles.

Enjoy!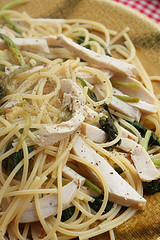 I changed it a little (like using a lot more Cream of Chicken soup) and didn't use a crock-pot, but it still turned out rather tasty.
About the same time I was savoring "MasterYourCard Chicken", my favorite radio station was doing a series of stories of meals for under $10.
The best part of the series were all the recipes that people left in the comment section, but they are gone now
Obviously there are a lot of great meals out there that are cheaper than $10 (here's a whole site of them for half that price).
And if $5 is too much for you, there are plenty of simple meals that get the job done. My personal favorites are:
Spaghetti & Garlic Toast
Grilled Cheese & Tomato Soup
Mac & Cheese with Hot dogs
Or my all time favorite meal(no joke)…Hamburger & Rice.
Mix some rice with hamburger, top it with butter, and your good to go.
As you can see whether you spend $800 a year on food or $800 a month, there are many, many, ways to get the best bang for your food buck.
So how about we try this sharing thing again?
What's your favorite $10 meal, $5 meal, or super simple meal?
I'm getting hungry just thinking about this.
Until next time,
-DD