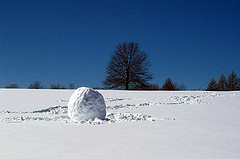 In part of the interview process I went through to get this cushy gig, I remember being asked what I thought of Dave Ramsey. I had to admit that I heard of him, but that I didn't really know much about him. I remembered him being featured on "60 Minutes" some years ago, but that was it.
Luckily for me, that embarrassing answer didn't instantly disqualify me.
And after this past weekend, I can no longer claim ignorance on the Dave Ramsey front. Thanks to THE HAPPY ROCK sending me a copy of Total Money Makeover, I now can say I know Dave Ramsey's method.
Actually I was already aware of a similar method.
As newlyweds my wife & I attended a couple of adult education classes put on by the Minneapolis Park & Rec Dept. We went to "Sink & Faucet Repair" and "Invest in Your Debt".
We never repaired our sink(but it did give me the confidence to tackle a toilet issue that arose), and we never really fully invested in our debt either. But it did motivate us to pay off our smallest debt first then apply those payments to the next smallest and so on and so on.
Sound familiar?
Obviously we didn't stick with this plan, which is why I'm back to square-one when it comes to our debt, but it gave me a background to digest "The Total Money Makeover". Devour might be a better word because I read it in a day (skipping the success stories).
I was hooked.
The motto "If you will live like no one else, later you can live like no one else," spoke to me. I cruised through the myths & hurdles, commenting to my wife, "When does he get to the plan?"
Then the plan came and I didn't put the book down the rest of the night. Like Dave says, it's not complicated, but very difficult. Too bad I didn't look into this information after watching him on 60 minutes because I would be in a very different place right now.
But what truly has me fired up about this book is that my wife is now reading it. That alone is a major accomplishment (the pile of books that I've recommended her to read and she says, "I'll get to it" would reach the ceiling), so it shocked me when after I told her she should read this, that she started right away.
And the best part is that it is also reaching her.
Just today she was telling me that maybe you all weren't that crazy for bringing up the idea that we sell our van. She now sees the mistake we made when we bought it in such a haphazard manner. She's still not quite ready to get rid of it just yet, but the possibility is now on the table.
Of course I wish I was working so I could really throw ourselves into this method, but this way we'll be in the right mindset when I do start working again.
From the comments I've been getting I'm sure most of you are already familiar with Dave Ramsey and his system. If you are, how about giving a progress report on how it's going for you. Does his system work for you? Did you need to alter it at all? Has it inspired your own system?
Let's hear some success stories…remember I skipped the ones in the book.
Until next time,
-DD
P.S. For those of you who were like me and don't know who Dave Ramsey is, check out The Total Money Makeover.