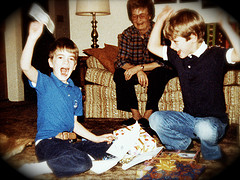 I haven't shared some links from the community in a while, but I plan to add this back in as a regular series.  It is great to be inspired by some of the other PF writers.
Current Links :
Taking a queue from Paid Twice I will change my language from debt reduction to debt elimination.  Reduction is too cozy and comfortable, elimination is mean and ferocious, and that is what it takes.
Nice Circles has the right idea by letting her dream of being a writer fuel her debt elimination.
Frugal Dad shares an extensive list of places to cut some money out of the budget.
Links From The Recent Past :
RC shares how he negotiated $150 off his repair bill after the work was done.  That just doesn't feel right to me, but it never hurts to ask.
Silicon Valley Blogger shares some nice tips to increase your income, which by the way is often an over looked part of a debt elimination journey.
NCN talks about breaking the credit habit.
Alissa @ On Purpose Living talks about their envelope system.
Finally, Ryan @ A Debt Reduction formula took a big step in beating his debt and sold his motorcycle!