I was honored when Frank told me that I was chosen as the Happy Rock's second writer.  But as the days have passed, that feeling has gone away and a new feeling has begun to come over me.  I call it the "How did this happen?" feeling.
I bet a lot of you are familiar with this feeling.  It has many variations (It's not exclusive to personal finance matters by any means) and it usually sets in upon any sort of personal reflection.  Some examples are:  the "How did I get roped into a day of antique shopping?" feeling, the "perhaps ordering the Gut-Buster wasn't the best first date idea?" feeling, or the "I wonder what this full body tattoo will look like when I'm 60?" feeling.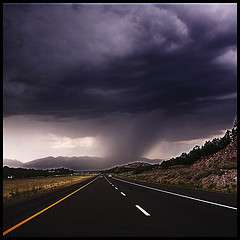 I think this recent "How did this happen?" feeling, stems from the fact that just a few short years ago I would've never pictured myself writing about my problems with paying my bills.  I was the guy my friends and family turned to for financial advice.  As I alluded to in my about page, my wife and I used to be rather frugal.  I diligently charted our monthly income and expenses and would give routine progress reports.
Those days are long gone.
I'd like to think we had a good excuse; we moved out of state, switched careers, bought a broken down fixer-upper home, and started a family all at the same time.  We very quickly fell into a pattern of going our to eat for every meal and living out of our suitcases.  I no longer tracked income and expenses because I felt like I had no time.  Plus this wasn't our normal life, so I didn't think it would hurt to take a break and then start up again once things settled down.
Three weeks after the house was in good enough shape to live in, my wife gave birth to our daughter.  And of course this brought new bills and expenses which I chose not to chart, but would start again as soon as things got back to normal.
My daughter is now three and 1/2 and has a 17-month old brother, and I'm still waiting for things to get back to normal.
It didn't really hit me that we were off track until I had to call off our vacation to New York City that we had planned for over a year.  A few unforeseen medical bills and a new set of tires made me take a hard look at our finances and I didn't like what I saw.
Savings were zilch and I had more bills coming in then ways to pay them.
That very day I was emailed a link to The Happy Rock, I read about this opening and decided that it was a sign.    Well, starting July 1st, I'll be charting all income and expenses again and will report the findings here.  I'll also be open to all helpful ideas and suggestions that come from The Happy Rock community.
I'm also announcing that our NYC vacation is not canceled.  It's just delayed one year.  This way there'll be plenty of time for both my finances and the airlines to get their act straightened out.