Sticker shock. That is probably your first thought, I know it was mine when The Happy Rockette first told me about the stroller. A little more than 3 months later, we own one! See the picture below for a quick look or click here for an in depth look at PhilandTeds.com.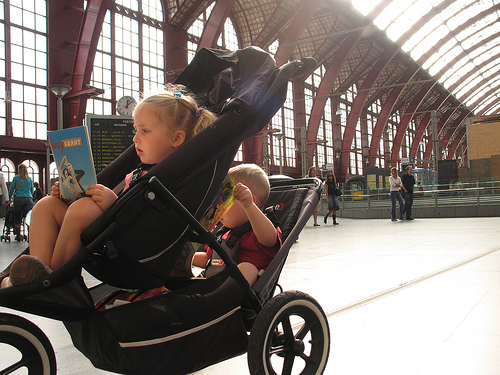 Here are the criteria I used to evaluate and review our Phil and Ted stroller purchase and why I think it was a great purchase:
Pay Cash. The Rockette had been working every other Saturday to help out at her former job and decided she wanted that extra effort to go towards something. We had the money in two weekends or so. That month gave us some time to do some extra research and really get behind the purchase.
Aligned With Our Values. Being in a small condo, going outside is a must. We love going the park and hiking the trails, walking the boardwalk, going to museums, etc. With the addition of Pebble Jr. two strollers just made everything much more of an ordeal. The purchase would help us cope with a small house, provide us with much more convenient time outside, and contribute to the positive welfare of our children.
Get Good Value. Could we have gotten a $200 double stroller? Sure…so that what did we get for the extra $200 dollars.

When we went to the store to check the stroller out in person, it was quite apparent that this stroller had years of research and design put into it compared to the other double stroller. It folded up smaller then our current one seater. Size is a big deal for double strollers. It provided multiple child configurations that accommodated our baby and a toddler all the way to two toddlers. The current setup has the Pebble Jr. laying down, and the Big Pebble perched on top. There was even enough room to change the Pebble Jr. which has come in quite handy. Handles are adjustable, covers and rain protectors are easy to use and store nicely, it is easy for The Rockette to push, and the list goes on. The value is in the design.

Pretty much everyone who owns a Phil and Ted stroller raves about it. Not in an I drive a BMW or Mercedes kind of way, but in a "it's made my life so much easier" way.
The resale value on used strollers was not much less than brand new, usually $300 or more. This is an indicator of people's willingness to pay and the quality of the product. It also helps justify the purchase to know that you can unload the stroller and get a decent portion of the purchase price back.

Get A Good Price. We searched for about a month until with found a new sport one for $399 with free shipping from Pish Posh Baby. I even emailed to see if there were coupons available, but they didn't respond until they included a coupon code for pishposhbaby.com with my order. You can get 5% with the code Save5 though, which readers say is still working.
So far we are very happy with our purchase, even though I still have a little sticker remorse from time to time when I realize the the stoller is almost worth the same amount as my car. What do you think? Am I crazy and just justifying a silly purchase?
Update[8/17/2008] – Here are a few answers to questions I received through email.
1. Which model did you get? – Inline Sport
2. Does it allow you to adapt your car seat to it for an infant? (If it does not, did you find this to be a problem?) – It does not adapt to the car seat out of the box, but there are car seat adapters out there – I think the stroller is way easier than the car seat. If you have a small infant that can't sit up, it has the lay down position which works great. Phil and Ted Car Seat Adapters
3. Do you know where I can find a list of retailers where I can look at one in person?. – I think your best bet is here, although I know there is at least one local retailer that isn't listed there. It was helpful to look in person to help combat sticker shock.
Update[7/21/2009] – Thanks to The Happy Rock reader Cristina for alerting us about a recall for almost all Phil and Ted strollers(2003 – 2008) for hinge problems.  As a couple of commenter mentioned the  stroller hinge is too sharp and can cut a person or rip the stroller material.  View the details here: Phil and Ted Stroller Recall.