Time to clean house. I have been carrying this dirty laundry around, since August.
In July I started an all cash experiment to test the Dave Ramsey argument that you can save 12-18% just by spending cash. View the cash only experiment details here and the benefits of spending cash here.
Some readers have asked me for the results of the experiment while back, but I admit I have none to offer. It took a few months, but I am finally willing to admit that the experiment was a failure. I apologize.
We didn't fail to complete the actual experiment. We did go all of July without swiping plastic once, but what broke down was my ability to analyze the results. I still have an envelope with the receipts I was able to save from the experiment, but I don't think I will be able to glean much from the incomplete set of data.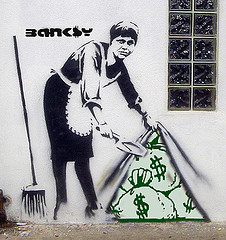 The truth is that the no cash month was such a radical change in my habits that I was beat down by the end of the month. I didn't have the energy to stay on top of things during the month and I was so discouraged at the end of the month that didn't complete the analysis. I think part of me didn't want to see that it saved money, because I wasn't ready for the change. Another part of me wasn't sure that I had been diligent enough in my record keeping to make the data meaningful.
I have wrestled with it and tried to slide it under the rug, but the spirit in me that desires change won't let it go any longer. The Happy Rockette also added some words of encouragement.
Yes it seems silly that a trivial change like spending only cash got the best of me, but it really did stress a large number of ingrained habits and required a lot of energy complete. I am OK with failure as long as it is a pathway to growth. With this admission, I think it will become just that. The time and energy was by no means a waste. The next time I try the experiment again or even different experiment I will have more insight, wisdom, discipline, and knowledge to bring to the table.
Sorry to disappoint anyone that was truly interested, but I hope to resurrect the experiment again with much better results. Is there anyone that would be willing to join me in the next effort? With a little more planning and discipline I think we could get some meaningful data out of it. Data that can help save money and improve lives!