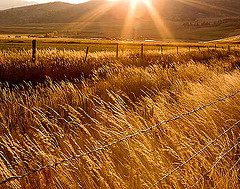 Ever dreamed of packing up and moving away from your hectic stressful life for the peaceful, rural, prairie beauty of the Midwest? Here is a great oppurtunity for you: some places in the US will actually give you free land, if you move to their town. That's right, free.
This dated article from CNN Money chronicles one family's move from Las Vegas to Kansas, where they were given free land to build a house. Some places will even provide monetary credits for each member of your family.
Here is a little flavor of how it works in Ellsworth, Kansas :
In Ellsworth County, for example, there are 23 lots available for free to individuals, assuming they're pre-qualified to build a house that is at least 1,000 square feet and agree to build a house on the land within two years time.

In addition to the land, families with children stand to receive $1,500 to $3,000 toward a down payment when they buy in the area. "Each new child is worth an additional $6,000 to our school district from the state," said Anita Hoffhines, executive director of Ellsworth County Economic Development.
Here are some free land opportunities in Kansas. There are similar incentives in North Dakota, although as the site says that the "odds are, you are not a candidate for NW North Dakota.". You need a portable job, financial security, and a solid moral fiber to qualify. The North Dakota site was written by some good marketers, because just reading through it gets my mind thinking through the possibilities. The article also shares that towns are willing to work deals with new business owners that plan to bring economic value to the area.
Living on the east coast, I would have never thought that the Midwest was so desperate for new residents. I have been to and through most of the northern US states and they are astonishingly beautiful, although if you are used to suburban/city living there isn't much of anything there. In Wyoming it could be 200 miles between gas stations! It is still quite fun to dream!