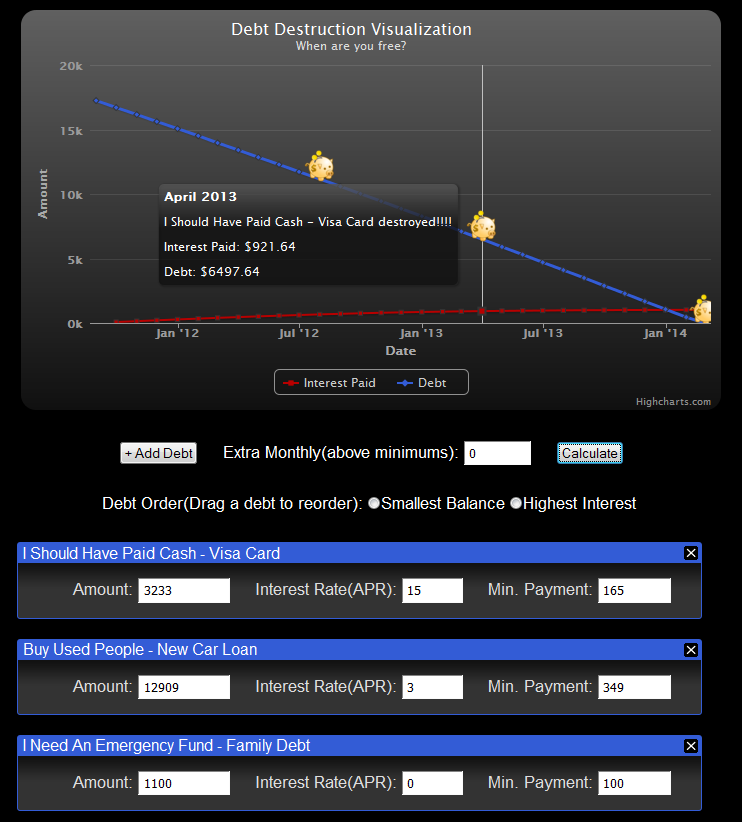 The first release of the online debt calculator is ready for users. The idea is that you don't need to download a debt reduction spreadsheet or some external program, you can visualize your debt destruction right in your web browser. Debts can be reordered by dragging them around in the list, you can see what happens when you add extra monthly payments, reorder debts using the debt snowball method of smallest balance, and more.  Full instructions are in the sidebar next to the debt calculator.
With that said, I am looking for feedback. I am poised and ready to add new features, but I wanted to make sure that I had an idea worth pursing and figure out how users want to use it.  I am looking for all types of feedback.  Enhancements, bugs, and I even welcome negativity.  If this isn't something that isn't helpful or useful, I want to stop devoting time to it as soon as possible.  Use the simple feedback form on the calculator's sidebar or publicly share your feedback by using the 'Feedback and Support' tab in the bottom right hand corner.
A picture is worth a thousand of my words, so here goes…and here is the debt calculator link again.