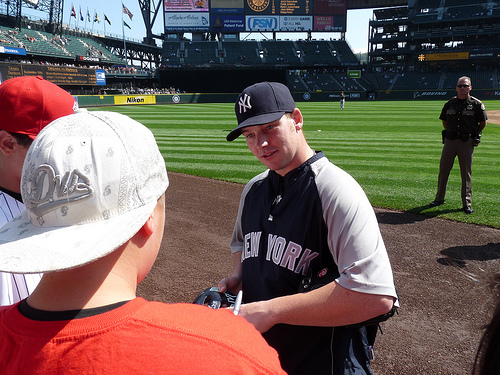 Late October is an exciting time for sports fans.  Football is in full swing, we get the World Series and the NBA season tips off as well.  A little something for everybody.
With that in mind a couple of stores in today's news caught my eye.
The first is nothing new.  It is one of seemingly limitless talent being greatly rewarded with riches beyond most of our dreams.
Antoine Walker was an NBA superstar.  In his 13 year playing career he made $110 Million dollars.  The Boston Globe is now reporting that he is trouble for writing $1 million in bad checks to Vegas casinos. Not only that but it also tuns out that he owes other creditors upwards of $4 million. Even his old agent is after him for unpaid bills.
Off the court, there were the cars, the jewelry, the houses, the suits, the gambling. He liked to move in an outsized entourage; his mother estimates that, during his playing days, he was supporting 70 friends and family members in one way or another. And speaking of his mother, he built her a mansion in the Chicago suburbs, complete with an indoor pool, 10 bathrooms, and a full-size basketball court.
Maybe he can move back in with his Mom.
In the middle of stories of Walker living the high life there was a line in the article that stood out to me:
NBA agents and players contacted for this article say an annual "burn rate'' of $2 million to $4 million isn't unusual for the living expenses of an elite player.
Yowsers!  "Burn" rate is right.
While I shake my head when hearing stories like this one, I also can see why this sort of thing happens.   A lot of superstars (not just athletes, take Nicolas Cage for example) are elite at what they do, but they don't know squat about money.  They don't spend their time perusing PF blogs.
A good example of this can be seen on the show Hard Knocks.
Hard Knocks is a show that gives you an inside look at an NFL team during training camp. This year the Cincinnati Bengals are the featured team. Chad Ocho Cinco is their star wideout. They show him talking with his coach about what to do with his money.   Check it out here. (Go to the 4:57 mark…WARNING, there is plenty of explicit language)
I don't know about you, but after watching that clip I have a feeling that he isn't set up for retirement (although maybe he will be fine since he doesn't waste money on contraptions).
But something tells me that Phil Coke will be.
Phil Coke is relief pitcher for the New York Yankees and according to a Yahoo article he is also one of the lowest paid members of the Yankees.   Granted his salary of $400,000 is way out of my league, but I'm still impressed with how down to earth he is.
His first full season of big league paychecks doesn't mean he's moved into a penthouse suite on the Upper East Side. Coke rents a furnished apartment in New Jersey, one that runs him about $2,500 a month.
Now that is something that I can relate too.
He may never end up making HUGE money, but something tells me he'll be just fine when he is done playing baseball.
The lesson these two stories demonstrate is simple. Live within your means. 
Until next time,
-DD