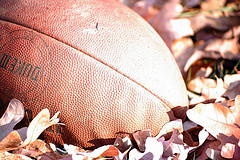 Woo-Hoo!  Football has finally started!
Better yet I got to watch my favorite team, The Washington Redskins, on TV(This is a big deal when you live in the middle of nowhere and you only have three channels).    But let ye football gods strike me down because I ended up watching more of the US Open than I did the pigskin.
The way I figured I only had one more day of tennis left on TV, but I have 20 more weeks of football.
Besides every time I turned to the football game, the Giants were kicking butt, so I decided it was best that I didn't watch. But I made sure to check my fantasy players.
That's right, I'm a nerd!
The Redskins may have started out poorly, but my two fantasy teams are off to a great start(probably because I don't have any Redskins…j/k  I have Cooley).
And while I'm already a huge fantasy football fan, today I stumbled upon another football game that I think I'll like.
It's geared for teachers to use it in their classroom to help teach students financial literacy.
The game (sponsored by VISA) has four quick lesson plans which they recommend you go through before playing. They call it "training camp."
The Fundamentals of Net Worth
Savings and Interest
Credit & Debit Cards
The Art of Budgeting
I didn't have the patience to go through "training camp"  so I dived in right away.
Here is an example of the questions they ask:
What is the first step in settling a retail dispute?
If you answered "call the retailer with whom you have the dispute", you wouldn't get tackled and gain a first down.  The crowd would cheer and you'd get another question.
I opted to only play one quarter due to lack of time, and before I knew it I had The Redskins getting revenge on the Giants for their week one let down.  I marched down the field and scored at will.
But getting back to the point…
I thought it was an interesting way to reach out to kids and get them thinking about their finances.  You should play it for yourself and let me know what you think.
Do you think it is appropriate material for classroom use?  Do you think kids will take to it? Does it leave a bad taste in your mouth knowing it's sponsored by Visa?  Or do you think its crazy that the Redskins can march down the field on anyone?
Until next time,
-DD