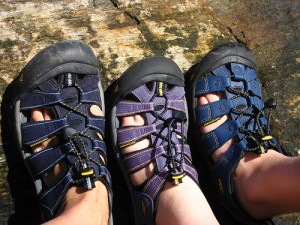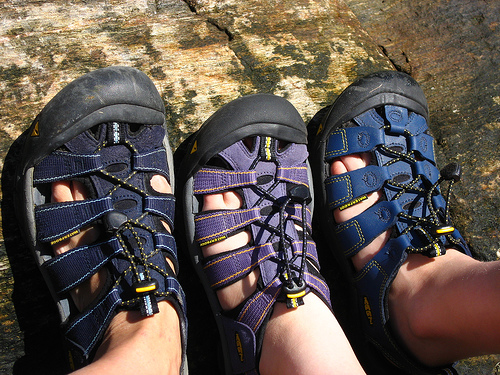 Long story short, Keen will replace any pair of bungee shoe laces for free. Just follow this link to the Keen FAQ and click the customer service link in the replace your laces question.
First, if you aren't familiar with Keen sandals(Newport), take a look at the picture.  They get my vote, especially for my boys.  They are much better than the wide many variety of cheap open toed sandals that I see kids running around in.  These are solid, comfy, and protective.The Newport sandals come with bungee laces and a simple clamp slider which make them easy for my 3 year old to put on.  Somehow though he managed to shred the laces on a new pair in under a month.   The shoes are still usable without the laces, but they aren't quite as supportive and look really run down.    I stopped by an EMS store to find a replacement, but they weren't any help.    I started searching on where to buy replacement Keen laces, but I didn't have too much luck.  I should have been looking for generic bungee laces.  I finally found a post on a forum that said Keen would replace the laces at no cost me.
I used their customer service form mentioned above and told them my story.  In about 3 or 4 weeks a new set of laces and clamps showed up at my door. I didn't get an email response to my request so I wasn't sure they were even going to come, but they did eventually. The laces were solid black, although the laces that come with the shoes are normally stripped/speckled.  Clamps and instructions were also included.   Even though it took a while, this is some great customer service.  Anytime a company offers to replace something for free without too much hassle I am quite impressed.  Keen probably has a consumer for life now.

In the mean time, I was able to fix the Keen laces myself. I was able to pull the clamp apart, trim up the loose ends, and then put it back in the clamp.  The repaired lace is a little shorter but it isn't noticeable.  For those that lost the instructions or those that are looking for more detail on how to fix the Keen laces yourself, I scanned the Keen instructions for reference : Page 1 and Page 2.  If you don't want to wait for the free laces, people have had good success with iBungee Stretch Laces.  
Good luck! Let us know how it goes.