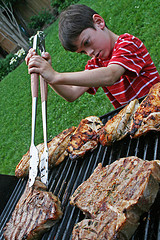 Have you noticed how expensive it is to get old? No, I'm talking about supplemental Medicare insurance either.
I'm talking about birthdays!
I turned 34 not to long ago.  And to mark such a momentous occasion my wife decided that we should throw a party.  And what started out as a small backyard BBQ, turned into a shindig where we invited everyone we knew.
OK, maybe it wasn't quiet that bad, but it felt like it.
I think it got out of hand because we don't host many get-togethers.  We threw one other "big" party before.  It was on my 29th B-Day, but it was also a going-away party.  We were moving from the Twin Cities back to South Dakota, so that time we did invited almost everyone we knew.
We grilled out, my brother's band played a short set in the living room (I joined them on drums on one song…I don't play the drums), then we showed some short films I made while living in Minnesota.  It was a great time, people still talk about it (well, a couple of people still talk about it).
So I guess if we party, we party hearty!
In my May Expense report I noted that our grocery expense was larger than it has been.  That was because out of the $496.43 that we spent that month, $224.29 was for the party.  My wife wanted to serve a combo of teriyaki burgers and some chicken skewers.  I was fine with that when it was going to be a small gathering, but when the invite list started growing we settled on just burgers.
But not just any ol' burgers.
I remembered an episode of Kitchen Nightmares where Chef Ramsay quickly whipped up some burgers and everybody went ga-ga for them. I wanted to serve Lela's Famous Burgers. And thanks to the internet, I did.
But I didn't spend $200 just on burgers.  I also had to provide beverages for our guests, and even though my wife warned me not to go hog wild, I perhaps went a little overboard.
It started out fine. I limited myself to two medium bottles of liquor, two-6-packs of beer, ice, and a few 2-liters of pop.  But then I saw the special display.
Fat Tire had arrived.
Next thing I knew I had gone hog wild and spent over $100 on drinks.  Oh well…you only turn 34 once right?  At least that's what I told my wife.
But we weren't quite done.  We have kids, and most of our friends do to. So we needed to be able entertain the kiddies too.  Here is what we came up with:
Foam Bowling
Bubbles
Hula Hoops
Croquet
Bean Bag game
Roasting Marshmellows
The total cost of all this Memorial Weekend fun came to be $248.28
Was it worth it?
I think so. A nice time was had by all. And since we don't do this kind of thing very often I think it was worth it. It was fun to have everybody over. Heck, our priest even showed up, which was handy because I needed help drinking the Fat Tire.
Until next time,
-DD
PS  I didn't end up taking advantage of any of the great tips that The The Rock shared about free stuff on his B-Day, but I did get this card from my good friends at Menards.