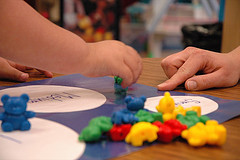 I just got back from picking up my two boys, age 16 months and 3 1/2 years, from pre-school.   It was their first day.  After years of in-home single sitter care both boys were ready for something else.  The youngest is a social little guy with a shorter attention span.  He thrives on social interaction and is quite bored(aka naughty) in our 1000sqft condo.  The oldest, The Pebble, is the smart shy engineer type.  He would be happy to stay home by himself dissecting his toys and building trains.  He would benefit from the social and relationship growth as well as more structured learning time.
The choice to put the boys into daycare was not an easy one, as daycare in general just doesn't mesh well with our parenting and family philosophy.    With that being said it would make some sense that we didn't opt for daycare, instead we chose an expensive pre-school.    You may not think there is a difference, but to us there is.  We visited one or two places until we stumbled upon Creme de la Creme.  It is the kind of place that once you visit, you want to send your children there.  All the other places pale in comparison and look so tainted.
It is structured more like school with a homeroom teacher that travels with the children as the move from classroom to classroom.   Plenty of friendly staff, impeccably clean, great diversity in ethnicity, and a broad range of educational opportunities.  The only downside…….uber expensive.  A 5 day a week program was about $1200-1300 a month.  We are looking at $300 a week for two boys for just 3 half days. It still sounds ridiculous to me, but there are other things to consider than just money.
Pluses
We can afford it. By having 1 and half  good salaries and haven't spent five years digging out of $70,000 in debt and building a solid emergency fund, you get to consider these types of decisions.  This is what financial freedom is about to some extent.  It isn't something we would have dreamed about 3 years ago, but now our personal finances are in a much different state.  I mean this is why we do all this money stuff, right?
It is an amazing school. Parents rave about it.  Children seem to love it.  The teachers really seem to have a keen interest and desire to improve your children's lives.  We think the boys will love it and don't feel any regret dropping them off in the morning.
It is an easily reversible decision. If we don't like it or realize that it is causing financial strain, then 30 days noticed is all that is needed.
Change your family tree. Every parent wants their children to have a better life than themselves.  The word 'better' is very subjective word so money and stuff becomes an easy measurement, although it is not always the best.
Minuses
Not keeping it real. It may seem a little strange, but I don't want to be those parents.  The parents that spoils their children.  The parents that can use money to insulate their children from real life.  We aren't those parents, so I want to continue to make sure that the boys have a diverse life education.   I grew up on welfare and government cheese in my early life and watched my mom struggle to move from poverty to a $60,000+ a year job.  I lived a broad range of life experiences along the way and I am so grateful for them all.
Using money and good things to replace real parenting. This is the flip side of the last pluses point.  A good education is great, but I want to make sure that it isn't a replacement for life education and experiences.  I also know that things like moral and character development are potentially more impact on my son's lives.  A good education shouldn't replace the everyday opportunities to grow my child's personalities and develop their character.
Makes 'real' school dull.  The thought seriously has gone through my mind that this experience could ruin their perspective on what school will be like.
The reason I am sharing is because it wasn't an easy clear cut decision for me.  Of course they could do quite well with less expensive care, but my children are one of my top three priorities in life and my finances among other things should reflect that.  This is one gift for the boys I was willing to test out.
What are your thoughts?  Do you disagree with some of my reasoning or am I spot on?  What would you do?