We've hit the road each of the last three weekends.  The weather was gorgeous and we had fun destinations to look forward too.  But one thing we didn't have was air conditioning.
Luckily it wasn't too hot yet, so the suffering was kept to a minimum.  But I knew I wanted to get it fixed the next time I went in for an oil change.  I figured it would just need a freon recharge and that would be that.
Ha!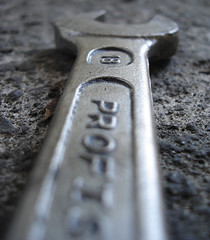 We ended up having a relatively large hole in the A/C condensor.  Price tag $650.  I of course didn't think twice about it, because if you remember, I thought A/C was a necessity. Me without A/C can be like Bruce Banner when he gets angry.
Then wouldn't you know it, my alternator belts were cracked and I also needed new break pads. All of this combined had a total price tag of $989.40.
Uggh!
Now I understand why Trent @ The Simple Dollar decided to go with a new car.  Used cars are great, but in a trade off for the decreased depreciation, you get the wear & tear that goes along with it.
Oh well, we still love our van.  After 75,000 miles I should expect to have to put some money back into it. The repair guy said getting a hole in the A/C is a fluky thing.  He said maybe a rock got sucked up there or something like that.  A $1000 fluke.  Hopefully there won't be anymore flukes, just general routine maintenance.
Good thing there are emergency funds (and student loans).
Since misery loves company how about you share some of your favorite "fluke" stories. I'm sure The Happy Rock readers have some doozies to share. I guess you can also share stories on how you do everything perfect and never have to spend money on this kind of stuff, I just don't really feel like reading those right now.
But feel free
Until next time,
-DD