Back in September I wrote about how it took me two days to fix a screendoor.
Guess what? It's broken again.
I bring this up to show that I'm no handy man.  With all the Bob the Builder that my kids watch you'd think that something would rub off on me.  But nothing does.  In fact when the kids break something they always run to "Mommy"  to get it fixed.  But I don't blame them.
I married a female Red Green.
Ok, that might be a bit of an overstatement.  But sometimes I wonder.  Take our refrigerator for example.
Our bottom rack broke on the inside of the door.  I messed around for days trying to superglue the original rack back in.  It would be fine for a bit, then fall apart and the jug of apple juice was always falling on our feet.
I repeated this a few times until one day I came home from lunch to find out my wife fixed it.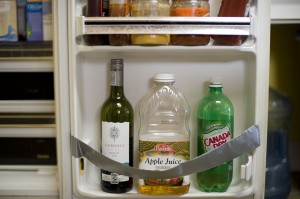 She fixed it with Duct Tape!
That same strip of tape has been protecting our toes for over a year.
Actually the most impressive aspect of the tape job, was that Mrs DD was actively lobbying for  a new fridge even before the rack broke.  It is on our Wish List after all.  So I was glad that she was able to put aside her desire for a new one and realize that as long as it keeps things cold, we'll be keeping our old fridge.
Speaking of things we'll be keeping…
Remember when Christmas came early for us and we received a hand-me-down couch? Well after we got used to it, our "new" 20-year old couch started to feel like…a 20-year old couch.  So My wife took it upon herself to fix it.
Can she fix it?  Yes she can!
A couple of weeks ago she went to the local hardware store and got a couple of pieces of foam cut to fit under the couch cushions.  The foam was spendy ($70+), but it made huge difference.  We are once again very pleased with our "new" couch and are confident that it will last until we get a leather one…someday.
While I'm busy exhorting my wife's handiness, I do have one success story that I should share.
We were having a plumbing problem in our upstairs bathroom.   Our tub spout is rather old and corroded, so water would somehow flow backwards along the bottom of the spout, get in the wall, and leak on the floor.  This made giving the kids a bath more messy than it normally would be.
It took me a while to figure out exactly what was causing the water to get on the floor.  But when I did, I used a rubber band to redirect the leak.  Now instead of getting all the way to the wall, the water leaks down into the tub when it hits the rubber band.
I also could just put some caulk around the tub surround, but that seemed too conventional of a fix. Plus I don't have much luck with those type of projects.
The screen door is testament to that.
So what have been some of your proudest moments fixing things yourself? Or better yet, how about some stories of home projects going awry.  I don't know about you, but I can relate to those kind of stories much better.
Until next time,
-DD