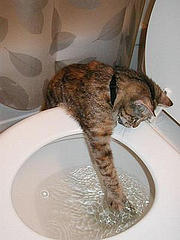 "Cheaper Than Cheap" is a recurring tip series about frugality. The idea is to provide potentially helpful frugality tips that border on fanatical or fictitious to the point of becoming humorous. Love them or hate them, let's hear what you think. Tip #7 was Sleep When It is Dark.
If it's yellow let it mellow, if it's brown flush it down
That old adage isn't just funny and gross, it can really save you money.  The point it is wait to flush your urine but always flush the poop.  I know it sounds kind of gross, but let's take a look at the numbers to see if it is really worth it.   Let's estimate that a family of 4 flushes 20 times a day, 16 of which are just liquid waste.   They own a somewhat dated toilet that uses 3.5 gallons a flush which is a good average because some older toilets can use up to 5 gallons or more while newer tanks can use as low as 0.8 gallons for pee flushes and 1.6 gallons for solid waste flushes.
If they follow the saying to the literal letter that would save 16 flushes a day or 56 gallons of water.  In a year they will save 20,440 gallons of water a year, which at a cost of 0.005 cents a galloon taken from my current bill would save $102 a year.
To put it in a broader perspective, the US as a whole uses 5.8 billion gallons of fresh water a day for flushing and could reduce that amount by over 4.3 billion gallons just by following "if it's yellow let it mellow, if it's brown flush it down".
If you aren't hardcore enough for the mellow yellow route, you could consider using an empty half gallon or gallon milk jug to convert you toilet into a lower flow toilet.
Cheaper Than Cheap Tip Of The Week Poll:

*Sources:
Low cost ways to conserve water at home @Yahoo