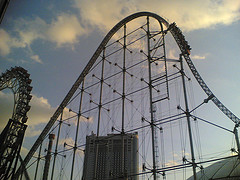 I bet most of you have already received your tax return before I even filed mine.   This year I waited until April 14th to send mine in.
Why did I wait so long?
Simple.  I knew we'd be paying in, so I was in no rush.   After all if they're going to give me until April 15th, then by golly I'll take my time.
Last night when I was putting all the paperwork away I decided to take a trip down memory lane and in doing so I realized that our annual income has been on quite a roller coaster ride.
Since I've been writing for the Happy Rock I've been showing our monthly expenses, well here now is the last 8 years of our annual income(with some commentary):
$58,787 – 2001 -" Let's get married!"
$64,674 – 2002 -"Hey we're making lots of money, let's buy a house!"
$50,651 – 2003 –"Oh oh, I just got laid off…"
$45,442 – 2004- "Let's move back to SD and have a kid!"
$37,469 – 2005 –"Maybe we should rethink that idea of you staying home?"
$39,939 – 2006 –"Yes, You would make a wonderful Wedding Photographer!"
$51,021 – 2007 –"Hey I got a new job, Let's have another kid!"
$64,165 – 2008 –"Since you have a successful business, I'll go back to school!"
I was a little surprised to see that we were back to our 2002 income levels even though I lost my job this year.  But my wife's business has been stepping up when we really needed it to.
But we'll be raising our hands and screaming next year because there'll be a mighty big drop in income for 2009.
Hopefully it won't be too bad and we can somehow manage just fine.  But as I alluded to earlier, the phone has been silent the last couple of months, so we're starting to worry about future bookings. Perhaps the economy is hitting close to home, or perhaps it's just a coincidence?
Whatever the case be rest assured that we'll continue to try to DESTROY as much debt as we can while we learn to live within our means.  That way we'll be in a great spot when I get done with school and enter the workforce again.
So thanks 2008 you were great, but it's time to shine in 2009!  And we're really going to kick butt in 2010! (sorry…I couldn't think of a rhyme)
Until next time,
-DD