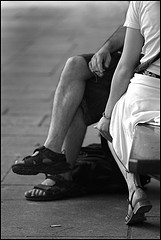 The Rockette and I were traveling to our in-law's house and we were having an informal marriage budget meeting.  It was the perfect time to bring up a few new areas that we could grow our giving.    I failed.
I failed at including my wife in a way that gave her any input.   I failed, because I assumed I had the right answers all worked out.  I failed, because I acted as if I just needed her approval on my right answer.  I failed because I didn't value her input or perspective.  I failed at a chance to draw us closer, instead I was building a wall between us.
Here is how the conversation went :
The Happy Rock : I was thinking about expanding our giving.
The Rockete : Really
The Happy Rock : I would like sponsor a child at Urban Promise, an after school program in Camden New Jersey, and I also want to increase our support for my best friend from college.
FAIL
You might be thinking that there wasn't anything wrong with that statement, but let's dissect it a little further.  The Rockette only has two real choices: agree with my idea or shoot down my idea.  This is especially true considering my tone reflected my confidence about the decision. She knew I wasn't really asking for her input.  She had no say and it wasn't the first time I presented ideas this way  There wasn't any room for her opinion on what to do with our limited resources.  I wasn't asking what she thought and that is the key point.  Include your spouse and be willing to have you mind changed.  Leave room for them to have an opinion that is different than yours and use the multiple perspectives to arrive at an even better decision and a closer relationship.
The Rockette handled it well and politely requested I ask in a way that gave her a choice. I quasi-quickly apologized and then instantly rephrased the statement to be a question. I said,  "what do you think about giving to Urban promise and increasing our support for our friends from college?".  Subtle change, but extremely different in its tone and respect for my wife.  She was quite agreeable as I suspected she would be and then we had a very pleasent discussion about the above material.    Disaster averted, giving increased, and a closer connection fostered.
Treat your partner like they matter.