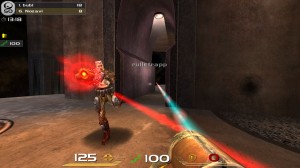 If you are a fan of multi-player first person shooter video games, then you are in luck.  ID software has decided to try and change the gaming world by offering a slighty updated version of Quake III Arena that runs directly in your web browser.    The best part is that it is completely free.  ID plans to support the game by in game billboard ads that should mesh nicely with the Quake boards.   They may even offer a premium option that will let players control their own games and servers.  That means this isn't some teaser tactic to lure people in, but rather an attempt to create a sustainable new production quality gaming business model.
All you need to do is visit Quake Live, sign up,  follow the setup instruction, and play a ranking match against the computer.  You will be playing in under 10 minutes.  At the current time Quake Live only supports Firefox and IE on Windows, but they plan to support Mac and Linux.
Review
Here is my review.  It was a blast.  It was easy to 'install' and get started.  I have played Quake versions in the past, so I can't speak to what the experience would be like for a brand new user.  The first thing that you'll notice is that it looks great.  It isn't cutting edge by any means, but for a browser based game it looks significantly better than anything I have seen.  The great part is that this means you don't need a ton of computing power.  I have a 3 year old laptop with 1.7 GHZ processor and 1 GB of RAM and it runs great.
The website and game portal is easy to navigate and they keep track of your skill level to help you find games with players of similar skill levels.   Quake Live keeps a plethora of stats and rankings and they are working hard to build up the social aspects of the site.   The maps are fun and the players are not jerks, at least at the intermediate skill level.    I also feel comfortable logging and playing for just a few minutes as it doesn't require a huge time investment.  All in all, I would give it an 8.5 out 10, plus you can't beat free!
Here is a quote from a review over at softpedia if you are interested in reading more :
In conclusion, Quake Live has all the important advantages of a successful online game: freeware, low requirements, no installation needed, detailed statistics, impressive variety of maps and game types, skill management, online community and so on. Quake Live Review

I say it is definately worth a try – Quake Live.