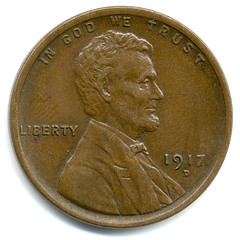 With the soaring cost of gold and other precious metals,  the penny which has cost more than 1 cent to make for a few years is finally being retired.   A single penny which is 97.5% zinc and 2.5% copper now costs almost 1.8 cents to produce in 2009.  It has been this way for years, but only recently has the cost of a penny risen to almost twice its worth.  The Obama administration has decided that removing the penny will be a simple cost cutting measure that will also be a boost to the economy and the exchange of money.
It just doesn't make sense sense to carry around this antiquated banking holdover when our economy and inflation have rendered the penny meaningless.  Criminals are getting more value out of a penny by melting it down than the citizens who are wasting their valuable time fumbling with the useless coin.  In 2007 alone the federal mint produced 7.4 billion pennies and could have saved 74 million dollars had this measure been in place. – Secretary of the Treasury, Timothy Geitner
Merchants are being urged to start rounded prices up or down to the nearest nickel to prepare for the penny's phase out which begins June 12, 2009.  The government has already stopped producing pennies and state governments will hold penny clean up locations on the third Saturday of every month.  The government will give the taxpayers 1.2 cents per penny that is returned.  This added stimulus will save the government in the long run and help stimulate the economy.  Next up is the nickel in 2010. The government expects to save almost 1 billion dollars as the cost to produce a nickel has risen over 8 cents.
I can't really picture an economy without a penny or a nickel, but I can't say I am sad.  I will make sure I have some on hand to make sure the transition goes well and for my scrapbook.  It is pretty funny to think we will be showing our children pennies in a decade  and they won't even know that they exist.
Source : Fox News article about the cost of a penny
Notice the publish date – APRIL FOOLS' DAY!