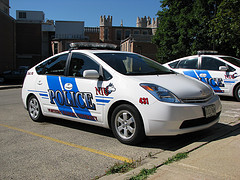 Not too long ago I wrote a post asking whether PF blog readers were looking for perfection or honesty? Just from the few comments I received it seems readers say they value honesty more than perfection.
Which is good news for us bloggers because it's a lot easier to be honest than perfect.
We got to see this same question answered on a larger scale when Trent @ The Simple Dollar wrote about buying a new car, a 2009 Prius. And while quite a few comments admired Trent's honesty it looks like a lot more were expecting perfection.
Knowing that TSD has one of the higher PF blog readerships, most of you are probably already up to speed on the situation.  But in case you don't follow that blog here's what happened:
Trent was in the market for a car.
He spent a long time doing research.
He crunched the numbers.
He bought a 2009 Toyota Prius (w/financing).
He got a lot of grief on his blog.
I have to admit that I was surprised by his decision.
I also have to admit I enjoyed reading the comments that were blasting him.  I think this was in part because I'm usually on the receiving end of that situation, so it was fun to see somebody else take a hit once in a while.
But after actually reading Trent's detailed analysis of this purchase, I had no problem with it.   Here's why:
He stated they were looking for a commuter car with great fuel economy. –   it seems to me that the Prius is right near the top of every fuel economy chart I've seen.
He said they had enough in savings to pay for the whole thing. – A long time ago I asked what people thought of interest free financing offers.  To me it looks like Trent would be a fan of interest free offers, since his savings gets him 3% and his loan is at 4%.  A few days later he posted his own thoughts on this subject.
The car is cool – A friend of my wife drives a Prius and my wife is always telling me how cool it is.  Who doesn't like cool things?
I don't really give a darn. – Ok, clearly I do since I left a comment and I'm writing about it now.  But what I mean to say is that it is Trent's life and he'll have to live with the consequences of his decision, not me.   Personally I think one of the worst financial decisions I've made was buying our current van .  That is because it was more than we could afford. Somehow I doubt that Trent will feel the same way (since he's sitting on a pile of cash).
While it's true that you can find posts on TSD about how great it feels to pay cash for cars, there is also a post from last April where Trent gave a rational for not paying in full.
Also, remember that what you have saved for a down payment isn't necessarily what you have to pay. If you have 40% saved up and can get an astoundingly low interest rate with only paying 20%, you don't have to cough up that extra 20% – keep it for your emergency fund or for saving for the next car you'll have to buy.
I understand that people disagree with Trent's method, but the manner in which they expressed it surprised me.  I couldn't believe how many people said that he'd lost all credibility with them.
His tips are no longer useful to them…REALLY?
One thought I had is that they came down on him so hard because he is successful at what he does. It's fun to put people on a pedestal to then knock them off of it.   For example, not too long ago Frugal Dad detailed his decision to go back to extended cable service after a year of basic cable.  He got 70 comments, very few agreeing with his decision, but none of them were shocked or outraged either.
So I pose the question yet again, this time without me in the center of it. Do we PF readers prefer honesty or perfection?
Until next time,
-DD