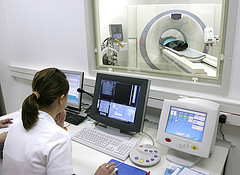 The following is a guest post written by Barbara Waltz one of the founders of 247QuoteUs.com, an online resource blog and insurance quote comparison guide.
Rising health insurance costs make it important for individuals and families to reduce the amount spent on coverage. Some people feel that the situation is out of their control. However, here are several tips to lower health insurance premiums.
Tip No. 1 — Choose a Health Insurance Policy Customized for Your Needs
Many health insurance policies give you options that you simply do not need. While it might make you feel more secure to have these options, you should consider whether you really want to pay for services that you are not using.
Choosing a policy that excludes services like orthodontics, prescription medication and doctor visits can drastically reduce your health insurance costs. If you are in good health, then you rarely use these services. So why pay for them?
Tip No. 2 — Investigate Your Private Health Insurance Policy Options
Even if you get health insurance benefits from your employer, you should still consider contacting insurance providers to discuss the possibility of purchasing a private policy. This is especially true since so many companies are raising rates and co-pays for their employees.
You can customize a private policy to your needs instead of accepting the terms set by your company. You are better equipped to make your healthcare decisions than your employer is.

Tip No. 3 — Shop Around for Good Rates
Another advantage of getting your own health insurance instead of using your employer's system is that you can shop around for better rates. This will require some effort on your part, but the results are worth it.
Contact several insurance providers and get information about their plans to help you decide which ones have affordable plans that address your concerns. Be sure to contact other providers on a regular basis, as well. It is a good idea to choose one month a year to shop around for a better rate and make sure you have the best deal.
Tip No. 4 — Increase Your Deductible
Increasing your deductible will reduce your health insurance costs. This is especially useful if you only have insurance for emergencies instead of regular doctor's office visits. Keeping your deductible high but within your range of affordability can significantly reduce your monthly insurance bill.
Tip No. 5 — Make Healthy Lifestyle Choices
Many health insurance providers give their best rates to clients that make healthy lifestyle choices. In fact, many policies will help you pay for gym memberships, massages and other services that can improve your health.
Smoking cessation programs also give financial incentives to tobacco users. You could actually lower your monthly health insurance bill by exercising, giving up tobacco and eating well. Not only will you save money, you could feel better and live longer too!