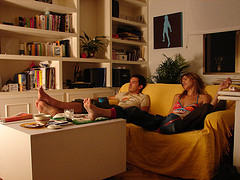 SPRING BREAK!!!
Here in South Dakota the State Universities go on Spring Break in March.   It usually doesn't feel like spring quite yet, in fact we had a winter storm in the middle of it (should've used the Pearl Jam money on a snowblower). But it was nice to have some free time.
I had grand plans before the break as to what I'd accomplish.  Organize the basement, work on my taxes, and finish up a couple of video projects that I've been putting off.  But really the only thing I got done was taking ten movies off of my queue.
Back when we cancelled Netflix, I mentioned that one of the things I'd miss most was my queue.  I was right.  Even though we didn't watch very many films via Netflix, I assembled quite a list.  I don't know when I thought we'd watch them, but I added them none-the-less.
So imagine my delight when my wife decided to join me in watching a movie every night of Spring Break.
One of the local video stores has a 5 movies for 5 days for $5 deal, and we've been anxiously eyeballing the calendar for a couple of weeks in anticipation for the occasion.  During classes I would overhear my fellow classmates talk about what adventure they'd be soon undertaking, and I'd get all giddy thinking about what movies I'd get.
The only catch with the deal is that new releases are off limits.  But who cares, we've only been watching a handful of movies for the past couple of years, so they were all new to us.
I know you're all dying to know what we ended up with, well here's the list.
DD's Spring Break 2009 :
Fast Food Nation
The Prestige   **wife's favorite**
Zodiac
Lars & the Real Girl
Sicko
Stranger than Fiction
American Gangster
Children of Men ** my favorite **
Atonement  **both of our least favorite **
A Death at a Funeral
How it worked was we'd stick to our normal routine until we put the kids to bed.  But then instead of going our separate ways to surf the net, pick up the house, walk the dog, or chat on the phone, we met on the couch for SHOWTIME.  The only problem this house of "fuddy duddies" had was that we were constantly dragging in the morning.  I think the kids were late to daycare every day.
But it was a blast!
It was fun to have some measured irresponsiblity in our lives. The best part was that it only cost $10.60(including taxes).  When compared to the $100 I spent on our last 10 films from Netflix, not only did we have a lot of fun(well a couple of films were downers) but it turned out to be a good deal too.
SPRING BREAK!!!
Until next time,
-DD