Have you been to a library lately?
For those of you who were scared off by the Dewey Decimal System, it's time for a visit.  You might not recognize the place.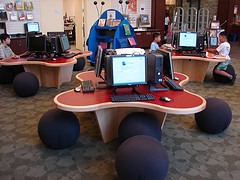 The card catalog is long gone, it's been replaced with banks of computers.  The scary looking reference section has been transformed into the video section.    The hard wooden tables and chairs have been replaced with soft comfy furniture.
It's a whole new world.
I have to admit I missed the transformation.  It wasn't until I had kids that I decided to see what the library had to offer me.  And boy am I ever glad I did.
It started one Saturday when my wife was shooting a wedding.  She had the van, and I was cooped up with two little kids.  It was a nice enough day out so we decided to pile into the stroller and go for a walk.  Luckily for us our local library is only 2 blocks away (living "downtown" has some advantages).
We headed straight downstairs to the children's section and I don't think we've ever left.
My kids went right to the puzzles and toys, but I headed right to the movie section. Movies are big in our house (no cable) and I think we were all starting to go insane from watching the same ones over, and over, and over…Now I'd be able to check out 5 videos for 2 weeks.  Hallelujah!
We also get 10 books.  Which now made reading stories before bed a little less monotonous as well.
Going to the library quickly became our favorite part of Saturday (after cartoons of course).  But then it got even better when we found out about…
Story Time!
Every Tuesday night the library hosts story time.  This is where they read a couple of stories, then make something in craft time, and watch a short video.   Each week has it's own theme.  So now we routinely go to the library twice a week.  I don't know how'd we function without it.
But the library is not all about kids.
At ours they have various book clubs and writing groups that meet monthly.  I've always been tempted to join these but my plate is pretty full now (going back to school and all), but someday…
A couple of summers ago when my tennis game needed a boost, I made a trip to the library and before I knew it I was reading about doubles strategies and having Arthur Ashe and Stan Smith give me private lessons in my living room.
I've gone on long enough now professing my love for libraries. How about you share some of your favorite things about them.
Until next time,
-DD