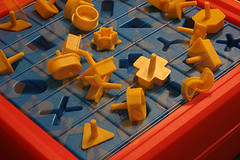 I guess I've arrived.
I knew I'd catch hell when I posted that I spent $180 in January on Pearl Jam related expenses.  But I was surprised by how much that little morsel caught on with others.
A couple of weeks ago LuLuGal asked if I was a frugal fraud (She chose the Happy Rock too – for the $400 stroller).
To tell you the truth, I was honored to be on the list.  She was poking a little fun at some fellow bloggers and I'm tickled pink that my act of super fandom made the cut.
A few days before that, Simplyforties used my love of all things Pearl Jam to make a point between wants and needs.  I kinda dug where she went with it (Especially since I thought she was going to bury me like everyone else did).
And just the other day Pants in the Can was inspired by my Pearl Jam purchase to see how much he spends in a month.
But all this attention to my act of "unfrugalness" got me thinking…
Do readers of PF blogs expect perfection?
I have to admit that I've only been reading these type of blogs since I've been writing for one (8 months now).   And in that time I wouldn't say I'm looking for perfection, but I do have things that I am looking for:
Money Saving / Debt Reduction / Investing Tips – Heck, who wouldn't be looking for these.
Inspiration – This is a big one for me.  I mean really, lets face it, we all know how to live within our means.  But for one reason or another some of us struggle with it, and occasionally we need a "wake up call."
Community – I know "misery loves company", but it also feels good to know that a bunch of people are working on the same "positive" goals as you are.
Entertainment –  We probably are all reading the same blogs.  If you are anything like me you like it that some of them use a little humor to help make their point.
When I accepted the gig as a writer here at The Happy Rock, I knew that people would be constantly judging me and my behavior. And I'm OK with that (for the most part).  I guess the point of this post is to remind people that I'm here to share my journey out of debt.  But keep in mind, that if I knew what I was doing I wouldn't be writing about being in debt would I? (probably good advice to keep in mind when reading a lot of PF blogs).
So if you lost confidence in me because I spent too much money on a CD, I totally understand.  I realize that some of you can't spare $180 a month on such frivolous expenses (If this is the case, I hope you're reading this on a library computer).
I think one of the best ways to learn is to make mistakes and then learn from them.
And I make plenty of them. So please, PLEASE, keep pointing out things that I could be doing better (Trust me, I need all the help I can get).  And if you thought me spending money on  Pearl Jam was bad wait until you see what I did in February.
I end almost every post I write by asking you readers for feedback. This isn't some gimmick I use to get comments. I REALLY want to know what people think and how everybody else goes about doing the things that I do (I've already changed my phone/internet provider thanks to the feedback I got).
So…
What do you look for as a reader of PF blogs? Do you get anything from my ramblings about my finances? What type of topics do you wish were written about(not just here but in general)?
And I know I probably have never said this before, but thank you very much for taking the time to read this blog. I know how busy we all are, and it means a lot that you took a moment to read what I have to say.  I hope you keep coming back.
Until Next Time,
-DD