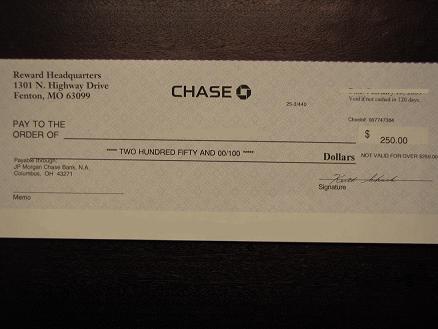 I just recently received another $250 from my Chase Freedom rewards card.  The check arrived almost exactly on my one year anniversary of signing up for the card.  I have some unspent cash back still on the account, so even accounting for the $26 dollars in charges for an 8 hour late payment I still made $500 this year.  In reality I only had to earn $400 in cash back rewards since Chase still adds $50 to a $200 check request.   A nice little perk for funneling our cash purchases through a credit card and paying of the balance each month.
I am not telling everyone to go sign up for credit cards, since the debate about whether it is worth it still rages on.  There are many downside factors that people often don't consider when using rewards cards.
Current financial discipline
Current income and debt
Past credit and financial history
The rewards and credit costs that are passed on to merchants
Hassle and stress factor of dealing with a card or with mistakes.  There are no late payments or double charges or finance charges with cash.
What are the reader's thoughts?  Credit cards rewards: worth the effort or not worth the hassle?  After my last late payment debacle I am getting closer and closer to the not worth my time and energy side of the debate.  My time and energy deserves to be spent on much more important things.