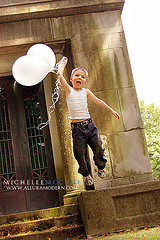 The Happy Pebble(age 3) couldn't contain his excitement as we pumped up a 3 foot long 'rocket' balloon and watched it sputter around the room. For him it was the joyous culmination of a life money lesson that he didn't even know he participated in.
The story begins with the Pebble and I making a few homemade thank you cards for gifts received at Christmas. It took us a few weeks after the holidays, but gratitude is better late then never. We mailed the cards off and in not too long he received a surprise letter in the mail from his Great Gram. It had a return thank you note saying she loved the card that it was hanging on the fridge. She even reinforced her gratitude by including a single dollar as a surprise!
The Pebble was elated, since he is usually happy to nab the spare change from around the house and throw it in his piggy bank. His very first dollar. His joy grew after I mentioned that we should go to the store and buy a toy.
The next day The Pebble, Pebble Junior, and myself spent a good hour in Target. I had to stay patient because this is where the real magic happened and where he began to understand the power of a dollar. He would point to toys and I would kindly explain that it would be 10 of the dollars he has. He happily kept looking and asking, but wasn't willing to accept the toys that he could afford. He also wasn't willing to 'save' the dollar and wait so that he could get something bigger, even offering to kick in some money for the effort.
Eventually after looking through all 10 aisles more than once he realized that he couldn't afford something big and happily settled on Rocket Balloons. It included a mini air pump and long balloons that you pump up and let go to see them rocket around the room. Even though it was twice what he had(I didn't tell him), it was still under $2 and he had learned a lesson in the value of a dollar and had great fun doing it. He shyly gave the money to the cashier and beamed with excitement until we could open the package and start playing. Lesson over.
Any readers have great stories to share on how they are teaching their toddlers about money?