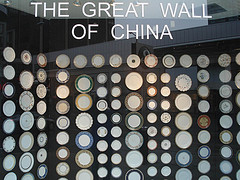 Set a good example of extravagance for all the world to see, that is what Laura Bush did as one of her final acts as First Lady.  She unveiled the White House china that most 2 term first ladies are privileged to design. It cost $485,000! "The White House worried that general wear and tear had taken a toll on its fragile China collections and Perino says the Bushes took some time to decide on a new design."  I am sure that the 8 year old  china the Hilary Clinton designed in 2000 that cost $250,000 must have been falling apart.  The White House China first got critical acclaim when Nancy Reagan unveiled her $200,000 design paid for by tax money amidst her husband's slashing of the federal budget.
It isn't quite as bad as you think though. A private foundation, the White House Historical Association, was founded after Nancy Reagan's debacle to try and avoid the political backlash.   Even though none of our tax money was used, it still seems ludicrous to spent that kind of money on plates and even more ridiculous given the financial turmoil the country was in.  I am not so much worried about teaching our kids, we parents can handle that, but who is going to teach the politicians?
Here is the link to the Good Morning America video segment and the GMA text article if you want to see a few pictures.
What do you think?  Chime in on the poll below :