As most of you know, I list my monthly expenses ( here is last month's) to help track where my family is spending our money.  Not only is it good for us to see where improvements can be made, but posting them online has also allowed me to gather money saving tips from all of you.
THANK YOU!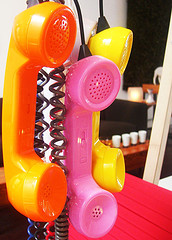 One of the most common areas where readers say we could lower our expense was our "Phone & Internet" bill.  We've been paying $115.75 a month to Qwest for quite some time now.  This included unlimited local and long distance calling, a bunch of features such as caller ID & voicemail, and high speed internet (DSL).
Deep down I've felt that this was too much, but I was content to not "mix things up".  Remember, I was the guy who held onto Netflix way longer than I should, so clearly I'm hesitant to change.
Well, you will be glad to know that a couple of weeks ago I did "mix things up."  But it wasn't the motivation of saving money that got me to make the switch, it was that I was tired of our super slow "high speed" internet.  For the past few months surfing the web turned into an exercise of our patience.
There were many days where I longed for dial-up speeds.
My excuse for not switching sooner was that I didn't want to mess up things for my wife's at-home business.  We are not the most tech-friendly household and miraculously our little network has been running fairly smoothly and I didn't want to go through the hassle of setting anything up again.  Plus we have a nice phone number and I didn't want to lose it.
Naturally I was relieved when I called the cable company's sales dept and found out I shouldn't have to change anything around, including our number.   The news got even better when they told me that they had a six month promotion for Phone & Internet for only $6o (plus fees & taxes, which were estimated to be $15).
So I'll be saving $40 for the next six months.
Which is nice because I had to buy a new modem and pay for installation. But the real good news is that even after the promotion ends I should still end up saving $10-$15 a month.
It took two weeks for them to come, but we've had our new service for about a week now and  so far I really like it.  The internet is much faster!  MUCH FASTER!!!
I have some issues with the phone service; voice quality is one, but I'll just pretend we're on a cell phone.  And no multiple voicemail boxes is the other.  We used to have our message set up as "If you want to speak to the DD family stay on the line, if you want the world's greatest wedding photographer please press 1."  Now we had to combine them.
No biggie, but I guess you get what you pay for. Which makes me wonder what I was paying for all those months of crawling around the internet.
Speaking of paying for things, I've been told my first bill will be brutal but by February things should settle down.  So I got that to look forward to. I'm not big on resolutions, but it'll be nice to ring in the New Year with some savings.
How about you, what do you pay for phone & internet? Are there any other areas where you will be looking to save money in 2009?
Until next time,
-DD