I hope you are all enjoying the holidays.  For those of you who haven't, the good news is that they are over.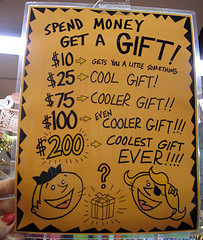 Long time readers might remember that I mentioned my Christmas Budget technique is to save up our cashback credit card rewards and use that money on presents.   This year we had $420 to work with.
Let's see how we did:
$90 – Our kids
$100 – My folks
$75 – Wife's folks
$57 – My family
$78 – Wife's family
$30 – Angel Tree Gift
Total = $430
We only missed our goal by $10, not counting the gifts we got for each other(we don't pre-budget those in order to surprise each other).  If we'd add those in our total would be very close to $600.
$600 is more than I wanted to spend, but considering this covered 22 people it's not so bad.
This is about the amount we've been at for the past few years. So I guess we're leveling off.  I think the only way to shrink it down any would be to cut out some people and use The Happy Rock's idea about skipping Christmas presents.
Actually this almost happened for us this year.
Last week one of my wife's family members called wondering if we'd be cool not exchanging gifts this year (due to me not working). And instead of saying yes, my wife told them that we'd already bought them some.   This was the truth, but as I explained to her we could've easily taken the gifts back.
Oh well, no biggie. We'll just have to remember this for next year.
Enough about me, how did you fare this holiday spending season?
Did you come in under/over budget?  How did this year compare to others?
Until next time,
-DD
PS  Happy New Year!