Did you have a merry Christmas?  What, it's not Christmas yet?
Whoops my bad.
You see we've already been given so much that I got confused for a moment.  In the course of a week we received a new couch ( a hand me down)  and some insulated curtains.
The curtains were an early Christmas present from my wife's parents and I have to say they are one of the best gifts we've ever received.  Not only are they somewhat stylish (dark purple) but they do an excellent job of keeping the drafts to a minimum.
Since we've put them up we haven't had to adjust out heat up once this year.  And seeing how we're in the middle of a long stretch of sub zero temps that is a pretty big deal.
You gotta love gifts that help save you money!
Our new couch is about 20 years old, but it was still an improvement over our last one.  It's a sectional, so it doesn't quite fit our house as good as our couch and love seat did.  But other than a little wasted space, I really like our new setup. Now I can actually stretch out when laying on the couch.
We're not fans of the flowery print, but we learned a long time ago to not look a gift horse in the mouth.  Besides, thats why they make couch covers, right?
We donated our old couch and loveseat to the Salvation Army.  So hopefully somebody finds good use for it (I hope they pay a pretty penny for it too).
In addition to all the great stuff we've been getting, it just feels like Christmas around here.
Which is odd, because normally it doesn't feel like Christmas at the DD house until we watch some holiday movies(Christmas Vacation, It's a Wonderful Life, Scrooged, Family Man, Die Hard).
But let me tell you, it doesn't get much more Christmasy than last Saturday.  The day started with my daughter's preschool holiday concert.  One word describes that…CUTE !!!
But that was only the beginning after that we…
Baked christmas cookies
Made a mixed CD of Christmas tunes (4th in a series I'm working on)
Drove around and looked at lights (while it was snowing)
Had hot chocolate (daughter's first time as a "big girl")
Watched "Emmet Otter's Jugband Christmas" (rented from library)
Read Christmas stories before bedtime
I know next week I get to enjoy the real thing, but I don't think it will measure up to last Saturday.  But how could it?  Eating ham with a bunch of old people just doesn't scream Christmas to me.  But it's tradition, so we'll smile and act like we're having fun.
But the traditions that I want my family to have are listed above.
Well…There is one thing I want to do on Christmas that isn't on the list.  After we get back in town from having Lunch with my extended family I want to have dinner that night at a Chinese Restaurant ala The Christmas Story Family.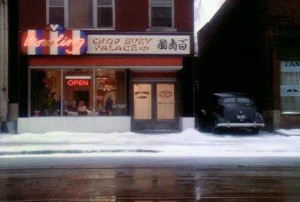 We don't have anything as nice as the Chop Suey Palace in town, but there's a nice buffet a few blocks away.
So how about you?  Have you been feeling the Holiday Spirit this season?  What gets you in the yuletide mood?  Or would you rather just say "Ba Humbug" and be left alone?
Until next time,
-DD