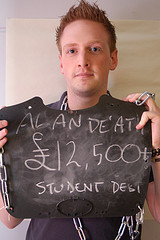 According to the local public radio station, South Dakota students carry the highest debt load in the nation.  I was shocked to hear this for a couple of reasons:
South Dakota Universities (public ones) are very affordable. For example, I'm currently enrolled in 17 credits (6 graduate, 11 undergrad) and tuition & books totaled slightly less than $4000.
South Dakota incomes aren't that high. So if these students are going deep in debt only to get a low paying job, they are setting themselves up for disappointment.
Perhaps because of #2 above, I guess I shouldn't be surprised that students are needing help to afford school. Most people here don't make much money, so of course they'd need help to pay for school.  Heck I just took out a $7750 loan to help me go back to school (and me & my wife still owe around $6,000 from our first go around with school).
So I probably shouldn't be shocked at all.
According to the Quick Fact Section at The Project on Student Loan Debt, borrowing is becoming more prevalent.
By the time they graduate, nearly two-thirds of students at four-year colleges and universities have student loan debt (66.4% in 2004). In 1993, less than one-half of four-year graduates had student loans.
In addition to the number of students needing help increasing, the amount they need to borrow is also increasing.
Over the past decade, debt levels for graduating seniors with student loans more than doubled from $9,250 to $19,200 – a 108% increase (58% after accounting for inflation).
But at the same time the news is talking about South Dakota having the highest student debt burden, I also remember hearing stories about how this fall's enrollment in South Dakota schools was the highest ever.  So clearly people are OK with borrowing for school.
But are those days near an end?
During Thanksgiving, my wife's cousin was telling us about her experience at college, she's a freshman going into social work.  This girl's Mother joked that she should be on the lookout for a rich husband since social work is not a very lucrative field.  But in all seriousness, I can see this being a concern for those low-paying fields that require a college degree.
I know that I hope to not have to borrow any more money just to land a teaching job.
But I guess it probably wouldn't be so bad except when you add on credit card debt and a car payment, fresh college graduates can find themselves behind the financial 8-ball in no time.
So Happy Rock readers, what do you think about all of this?  If you went to college, did you need a student loan?  If so, was it worth it?  And to what level do you think we'll keep borrowing to go to school?
I look forward to your insightful comments.
Until next time,
-DD