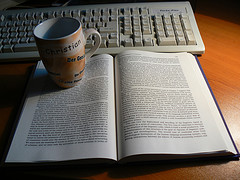 For those that are interested, ChristianAudio.com offers at least on free full length audio book for download each month.
Dec. 2008 is 90 Days of Morning and Evening by Charles Spurgeon.  Check back at the start of each month to see what the new selection is.
They also having a growing collection of free books, interviews, and podcasts that also can be downloaded for free.  Click here to search the list.
Enjoy.  Don't forget there is only a few hours left to enter the contest for DD's free Time Magazine subscription.