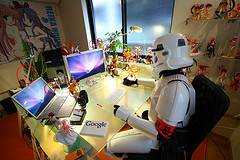 Happy Rock's recent post with all the free stuff motivated me to add one to the list.
Seeing how I'm plastered all over the pages of Time Magazine (My family's picture with President-Elect Obama is now also in the Special Commemorative Edition, full-page spread baby!)  I figured I'd share the love by offering the gift of weekly news delivered to your mailbox.
That's right folks a year of Time magazine can be yours!
All you have to do is send The Happy Rock an email and a lucky reader will be randomly selected.  Use the contact button on the top toolbar to be entered.  The winner will be picked on Dec 3rd(12-3-08), but be sure to allow several weeks for the magazine to start coming.
My conscious wants you to know that my generosity is not only motivated by THR's post, but also by a postcard I just received from TIME telling me that I can give a free gift subscription when I renew my subscription.
There is also a free mystery gift involved. But I'll be keeping that.
Until Next time,
-DD