Happy Thanksgiving Everybody!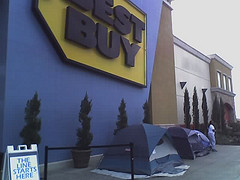 And welcome to the official start of the holiday shopping season.
Back when I shared my Christmas budget, I said I'd revisit the idea of whether or not Christmas is becoming too commercialized or not.  Well it's your lucky day!
But first let me come clean about something.
I can be an idealist at times.  Not all the time, but just enough that I can be rather annoying to be around when certain subjects come up.  You know my type, we're very passionate about something about a certain topic for awhile then we move on to something else.
Kind of like Oprah.
Some of my past causes have been:
Recycling
Breast-feeding
Ethical breeding of animals
Organic food
Supporting Local Business
You get the picture.
Now I still think all of those things are wonderful, but in the past I could give you an impassioned argument saying why you should see the light and change your ways. Whereas now, I just try to do what I think is right and set a good example.
A good example of this is "Black Friday" or as I used to call it, "Buy Nothing Day."
At one time I used to subscribe to a magazine called Adbusters, and one of their claims to fame (if they have any at all) is Buy Nothing Day.  It's pretty much what it sounds like.  You just refrain from doing any shopping on the day after Thanksgiving, otherwise known as Black Friday.
It was quite easy for me to participate in "Buy Nothing Day" for two reasons:
I REALLY like to sleep in, so I always would miss the sales.
I'm a guy.  I did quite a lot of my shopping on the 24th.
In reality my protest was silent in nature because I never really told anybody about my plan except for my wife.  But that all changed one year when we spent Thanksgiving with my wife's family.
My mother-in-law was drooling over all the ads and asked if there was anything that she should pick up for me.  So then I told her all about "Buy Nothing Day."  She looked at me like I had two heads.
Actually everyone did.
Our hosts that evening ( wife's sister & brother in-law) proceeded to inform me that almost every electronic device in their house was from a previous Black Friday sale.  And that they were in the market for a new computer that year.  In fact my brother in-law was going to get up at 4 a.m. to go wait in line at Best Buy.
I wished him well and thought that was that.
But that night I had a miserable night's sleep on an air mattress that deflated on my wife & I (probably a black friday purchase) so we switched to the couch.  Problem there was that there were no curtains in that room and the street light shown right in on us.
So when 4am came around I was wide awake and offered to tag along with my brother in law.
I'm glad I did.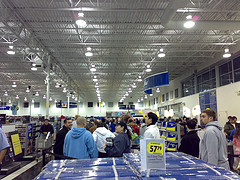 The line at Best Buy was already several hundred people long, so we didn't even bother at that store.  So we went to store #2, Staples.
The line was much more reasonable, probably only 100 or so(if that).  But we had to wait for that store to open at 6am.  So we waited in the cold for over an hour.
It was great!
Everyone was trading their old "Black Friday" war stories, making a plan for how they'd attack this store and then planning out the rest of the day.  Everything was fine until "they" came.
These are the people who think they are too good for lines.  Instead they show up right before the store opens and gather by the doors. Here these happy, go-lucky people who moments before where exchanging cookie recipes were now shouting some pretty horrible things at "them".
When the doors opened it was a stampede, I think my feet were lifted off the ground for a moment, just like the old mosh pit days at Pearl Jam shows.  My job was to save a place in the checkout line so we didn't waste all morning in line.   It was brilliant, not only did we save time, but it also gave me a front row seat to the show.
And what a show it was!
I finally got to see what I've been missing.  And while it did get my adrenaline pumping for a few seconds, it also convinced me that I never wanted to do it again.
But I now have a better understanding of you "Black Friday" veterans out there.
I wish you the best of luck, and in case you missed them here are the deals. For those of you who are curious about "Buy Nothing Day" here is some info on that too.
Now that I've wasted 800 words on my "Black Friday" story, do you have any good ones? What were some of the great deals you got?  Do you think it's worth the hassle?
Until next time,
-DD
P.S.  The idealist in me wanted to show you this clip: