I saw something tonight that I didn't think I ever would see again.
Gas under $2/gallon.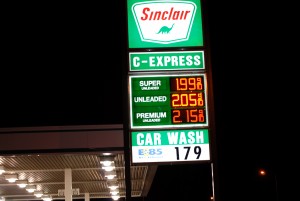 This summer when we were paying $4/gallon, it was just understood that high gas prices were here to stay.  With rising demands from China & India we needed to get used to paying these kind of prices.  People traded in their gas guzzlers for hybrids.  Others bought scooters.
Then the economy tanked and "cheap" gas is back.
It'll be interesting to see if people maintain their new conserving ways or will they revert back to old habits where mpg was an after-thought?
History shows us that when the gas lines of the 1970s retreated, they took the fad of the "little car" with them.  I for one hope that we don't return to our old gas guzzling ways.
Don't get me wrong, I prefer paying the lower prices.  But if we truly want to cut our dependency on foreign oil, we need to increase our vehicles' fuel efficiency.
It's ironic then that the Big Three automakers are being raked over the coals in Washington (as they beg for a bailout) for not producing vehicles for a $4/gal world, when we are no longer in that world.
I also find it ironic that, according to the news, if it wasn't for the credit crunch (which our trusty financial institutions helped create and were bailed out for doing so) that the automakers would be still OK.  But their own bail-out isn't looking as promising.
Sometimes I can't tell if irony is supposed to be funny or sad.
For those of you employed by the auto industry, I sincerely hope you are able to weather this storm.  Speaking as someone who was recently laid off, it's not fun. But it's not the end of the world either.
Hopefully this historic industry doesn't become history itself.
I don't think it will.
What about you?  How long do you think "cheap" gas will be around?  Do you think we changed our ways?  Do you think The Big 3 will make it?
Until next time,
-DD