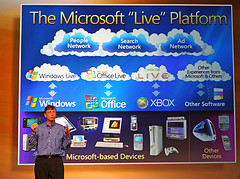 That's right, it sounds to good to be true, but it isn't.  Microsoft has been pushing this unique advertising ploy off and on for months now and people have been saving a ton on online purchases mainly through eBay.  Here's how to take advantage.
First sign up for a Windows Live cashback account and then all you have to do is search for a product of your choice at Microsofts' Live.com.  At the top of the search there will usually be an eBay link that says Live Search Cashback in gold next too it.  Just click the link and complete any Buy It Now purchase and save 25% up to $200 dollars.  This is for US searchers only.
The only small glitch is that the cashback will only be available 60 days after completing the purchase when it is deposited into a paypal.com account.   I have used this with success this Christmas.
They are also two other ways to save you money :
Smaller cash back percentages on a host of other stores(Gap, Foot Locker, Barnes and Nobles, …), just check out the Cash back home for more information.
Search Perks(Internet Explorer required), which is a limited user free points for searching program that lets you buy items with those points.
Microsoft's willingness to compete with Google and Yahoo could in in huge savings for the masses.
For more information on the eBay cashback check out the Buy now on eBay for 25% cashback post(now 8%) on the Window Live Search blog.