As promised, here is a post on how spending more money actually saved me money.
Some of you might recall from my August Expense Check-up, that I spent $90 on a two month supply of contact lenses.  In the post I said that I felt that it was too much and would try 1-800-Contacts the next time I ordered.   Well "next time" turned out to be last week, so I tried it out.
And am I ever glad I did!
By going to 1-800 Contacts.com I was able to get a 6 month supply of contacts for $150. Or to put it another way, I just saved $20 a month.  And it only took about 5 minutes.
I've seen/heard the commercials for years, but for whatever reason I never took the time to check it out.  So maybe it was a good thing I switched to an eye-care place that gouged me for my contacts? After all,  it finally motivated me to investigate a possible cheaper deal.
Since I made the purchase online I wasn't able to pay cash for it, but that is OK because that just means a little something extra in my Christmas budget.
Of course the extra $20 a month will help more.
Here is another example of a purchase that saved me money.
I've had the same pair of shoes going on 3 years now.   While they are showing signs of wear & tear, I'm in no position to go get new ones.  If I remember right these puppies set me back around $200.  So instead of dropping down big bucks for a new pair, I picked up some new sole inserts and new strings for only $44.50.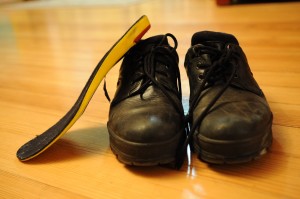 I figure I'm good for another couple of years, or at least until I'm done with school.
As always, I know that I'm late to the party when it comes to saving money, so please share examples of times where spending money actually ended up saving you money.
Until next time,
-DD