My wife love lists.  She's always making them:
Grocery Lists
To-Do Lists
Christmas Lists
You name it and she'll make a list.   She starts her week by making a list of projects that need to get done. Usually her lists are quite handy, unless they are the dreaded "Honey-Do List".  But there is one kind of list that we can agree on.
The wish list.
For as long as I've known her, my wife has always kept a list of things that she wants.   Once we got married we started a couple's "wish list".  In fact we keep it on the fridge so we see it everyday.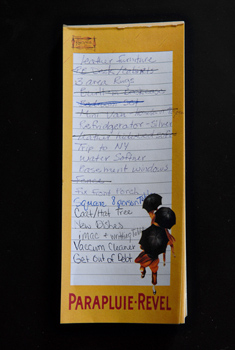 Here it is:
If you can't make it out here are a few items:
Leather Furniture
Area Rugs

Desk & Cabinets

Bedroom set

Hide-a-bed

Water Softener
Trip to NYC
Refrigerator

Fence

Vacuum Cleaner
As you can probably guess the items that have been crossed out are items that we have managed to get. Now I know what some of you are thinking; that a list like this defeats the purpose of trying to get out of debt and only encourages spending money.
Yes & No.
Yes – If we were just picking off things on this list left & right, then I'd agree with you, a list like this could be trouble.  But we haven't crossed anything of this list in quite a while.  Actually, we were planning on crossing off the NYC trip this past summer, but as I mentioned in my
very first Happy Rock post
we came to a financial realization that the trip would have to wait.
No –  Actually this is a good motivating factor for us not to spend money.  It reminds us that every time we spend money on something wasteful, it just delays us from getting to cross off one more item off the wish list.
I'm no expert on "The Secret" but I think I remember watching a part about a guy who put together a "dream board" which was made up of pictures of items that he really wanted.  He'd then focus on them and POOF, he moved into his dream house.  Obviously I don't think that is going to happen to us (believe me, we tried), but our list serves the same purpose.
It helps keeps our eyes on the prize.
**Tangent** I don't want it to seem like I'm mocking "The Secret" (even though I am). I do think there is something to "The Law of Attraction", but I think a more realistic approach was given in another motivational book, "Think and Grow Rich" by Napoleon Hill. It's kind've like HAPPY ROCK's recent post about Seth Godin's blog entry about effort. You have to work for things, not just wish for them.** end of Tangent**
But just to make sure that this list is a motivator for good behavior, and not bad.  We added a new item recently that should help:
Even though we could really use a water softener, I hope that this is the next item we cross off.
So…
What do you want?   What is on your wish list?   Sorry, but the Cubbies winning the World Series doesn't count as a wish list…it needs to be realistic.
Until next time,
-DD