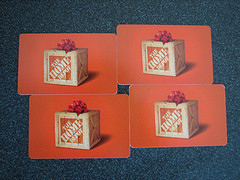 As I was in the line at Home Depot with all the supplies to redo our bathroom, I did something I haven't done in years   The seed was planted by an extremely helpful employee in the bathroom section and by the time I was about to check out with $400 worth of materials the frugal side of me couldn't resist the 10% off savings of $40 if I signed up for a credit card.
After a short walk to the customer service desk, few tidbits of information, and about 10 minutes I had a new credit card with a $10,000 limit and $40 off my bill.
The weird part is that I felt a little dirty afterward.  We spent so long digging out from under 70k in debt that it feels crappy being in unplanned debt even if we pay it off when the bill comes.    It felt sort of like I cheated after going years with only one credit card.
Once I was able to separate myself from the situation, I could see that it wasn't that big of deal and I saved $40, but the real question is "was it worth it"?  I would love to hear the readers thoughts on the matter.
Here is my take :
Hassle – It took an extra ten+ minutes to check out, plus the extra stress and hassle of making sure you remember to pay the bill and cancel the card.   Let's say it took about an hour all told, $40 an hour is a pretty good return.
Risk – What risk you ask?  Risk that you get late fees and penalties.  Risk that you can't afford to pay the bill when it comes. Risk that the card and company is reputable. Risk is one of the huge components of debt that people often overlook and don't respect.  It is the part of debt that has people in foreclosure, bankruptcy, or buried under piles of interest.  Everyone says that it won't happen to them, but it happens more often than people care to admit.
Card Quality – When signing up for a card at a check out counter, you give up your ability to research the card and the company.  Often the 'check out' cards are more dubious in quality than some of the major common cards like American Express Blue Cash.   'Check out' cards are often willing partake in questionable practices that regular cards don't like hidden fees, really high interest rates, fees for returns, short grace periods, etc. Turns out the Home Depot card has gotten terrible reviews in this regard.
One Drop Syndrome – Doing it once starts to break down your resistance towards debt and makes doing it again all the more appealing.  Eventually and usually without knowing you are doing things with credit that you wouldn't have pictured just months earlier.
Credit Score – This one really shouldn't matter too much, because a good score means that you can just get into more debt which you shouldn't be doing.   A new hard pull on your credit does ding it for while and the new card may or may not effect it, but it is at least worth noting.
With all that said I really don't think that I would do it again.   I am not saying that I will never do it, but I think the amount that I will save will need to be greater than $50 or more.  That's my take.
Update –  The bill is paid and the card was canceled without a problem.  They did start offering me free coupons if I kept the card open, but I politely declined.