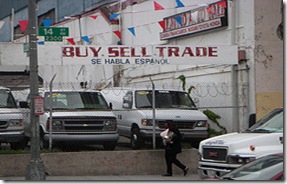 Another page has been added to our selling the van story.  You long time readers can skip ahead, but if you want to catch up here is the first part, and here is the second part.
Now for the third installment of "Will They or Won't They?"
I was having dinner at my parents house a couple of weeks ago and my Mom asked how we were doing financially.  I gave her my pat answer that I always give her,
"Just fine."
But then I made the mistake of offering a little more.
"But we'll be in much better shape after we sell the van."
That set off her maternal alarms:
"What's wrong?"
"But I thought you liked your van?"
"Is the business not doing good?"
After I calmed her down, I did my best to explain to her what our plan was:
Sell the van ($15,500).
Pay off the $11,000 grand we still owed, which would eliminate the $330 monthly payment.
Buy a $4500 vehicle and save up for a nicer vehicle.
She thought I had lost my mind.
I knew a lot of people wouldn't like our plan (especially her), so I didn't really give her protest much thought, until…
Later that night she called me up and asked if we were seriously going to sell our van?  I assured her we were, right after Native American Day (in South Dakota, Columbus Day = Native American Day). She then proceeds to tell me how much I will regret that decision because I'll end up with a junker that I'll have to throw money at and this will money saving idea will backfire in my face.
She then made the offer…to pay off our van.
"What's the catch?" I asked.  She said there wasn't one.  $5000 would be from my money my Dad left me that I gave her to hold onto.  And the other $6,000 would be from money my Grandma left my Mom to spend however she wanted.
I was a little fishy right away because where was this offer two years ago when we started my wife's business and needed almost exactly this amount of money.  Plus I could've swore I used up all the money my Dad left me for a down payment on our house.  I mentioned this to her, and she said she'd check into it.  Then I said how about she give just my Dad's money to me so then I'd have enough for a $9500 vehicle after selling the van.  She didn't like the sound of that.
I knew it was fishy.
Another problem was that I had really wanted to do the responsible thing and sell the vehicle, learn from our mistake, and sacrifice for the next few years until we could afford another used van.  But now a personal bailout plan is offered and I'm rather confused.
I know Frugal Dad recently wrote a post saying that you shouldn't lend relatives money, but what about the flip-side of that coin? and what if it's not a loan?
Even though it's fishy, I'm thinking of taking her up on it.  We don't really want to sell our van, the whole point was to get rid of the payment, and this would accomplish that.  So Happy Rock Readers I turn to you once again…
What would you do?  Are there any pros & cons that I'm missing?  Have any of you accepted a "bailout" before?  If so, how did it turn out?
I thank you in advance for any responses and please stay tuned for the next episode of "Will They or Won't They?"
Until next time,
-DD