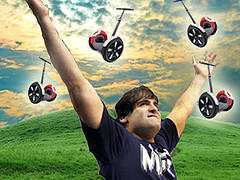 A co-worker shared this blog post by Mark Cuban, owner of the Dallas Mavericks NBA basketball team, with me and I thought it was fascinating.  For those that don't know Mark Cuban is a rags to riches stories who went from broke and jobless in 1982 to a wildly successful entrepreneur worth 2.8 billion dollars in about 25 years.   In this article he shares his tips to becoming rich.  Here is my ultra quick summary.
Develop personal discipline
Live frugally
Avoid debt
Have cash
Find a niche in an area you love
Use the cash to seize opportunities when it comes
Bust it hard
Here is a quote that gives you a good flavor of his attitude: "If you use a credit card, you don't want to be rich. The first step to getting rich, requires discipline. If you really want to be rich, you need to find the discipline, can you ?"
If you follow the link at the bottom of the article you can also read the story of his rise from nothing.  Mucho entertaining and inspiring.
Enjoy.