I love getting emails about the stories of The Happy Rock readers. I wanted to share this particular one because it is a beautiful example of a family banding together focusing on what matters and making it work despite hardship. I thought you would appreciate and connect with it.
While I am not in credit card debt (been there, done that, ain't going there again) my family is in a pretty bad financial situation: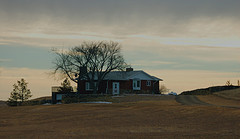 Long story short: I have been a stay at home mom for almost 11 years. My husband had a good paying job/good insurance to support our 4 children. In 2006 he started getting ill, while I was pregnant with baby #4. His job went "south of the border" and he found out he has an auto-immune disease that he will have to take medication for the rest of his life. He now has a job that pays well below what he was making at his other job.
What we have done to survive:
Started homeschooling the children to save on gas/school expenses.
Grow our own food-including meat(grass fed so we don't have to pay for corn).
Grow a garden (fun stuff for miss city girl here-I feel like Zsa Zsa in Green Acres)
Cut just about everything out that we can-reduced cable/got rid of long distance-only use calling cards/ talked to internet provider and got bill reduced $5.00/month, etc.
Food—I make practically everything-from my own buns, to my own chicken noodle soup. I went to the grocery store-to the convenience isle and looked at what was already prepared in a can. I now can make almost all that stuff on my own.
As for a vacation: We are planning on going on a 2500 mile round trip in a week. I am spending 70 dollars on food for my family of 6. I bake "snacks" before we go such as homemade granola, cookies, homemade "wheat thins", caramel corn, banana bead. I also can make meals-like the ones in the convenience isle. On this trip I have prepared and canned beef stew, tuna and noodles, spaghetti, sausage-green beans-potatoes. We will be camping so that will save money too.
Other frugal tips :
Bread bags/ties-clean bags and use for holding other foods. When the bag is on it's last legs, I usually store bacon in it, then throw it away.
Milk Jugs-punch holes in the bottom for kids watering can. Tops-kids practice tracing shapes, use for crafts, recycle.
Foil-wash and use over. I rarely use plastic Wrap. I buy 1-2 foil boxes a year.
Wax paper-I never buy this-I use the inside cereal box linings
Peanut butter jars-clean, use as storage for dried beans, rice or left overs in fridge. Also, for the husband…use to store nails, screws, washers in.
Newspaper (we don't get one, but can acquire it from relatives) wash windows with it-no streaking. Also, wrap presents with the funnies.
Frozen juice cans-I make cookie dough and squish it in them. cover(put in freezer bag) and freeze for up to 3 weeks. When ready to use, defrost and it usually falls right out. Just like store bought refrigerated dough. (though cookies are somewhat larger)
Mustard bottles- wash and use to squeeze out paint for crafts
Canned food (soup or vegetables)-recycle or my husband uses them for feeding scoops (for the animals) also we sometimes start plants in them and the plastic milk jugs
We also use what is on hand for science experiments (homeschool)
I buy storage bags about once a year (except when freezing produce)
I don't buy a lot of fancy craft supplies for the kids
I can't remember the last time I bought a food storage container
I don't buy a lot of cleaning products-I mainly use vinegar
I go to the local bakery outlet about once a month and buy bread for the bags and ties. I usually make our own bread. Bread there costs 49 cents to 79 cents a loaf.