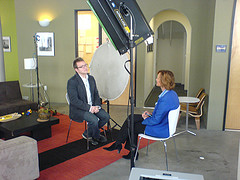 I recently finished a fiction novel called A Perfect Day by Richard Paul Evans. I am not sure how it got on our bookshelf, but I needed something to read one night and the dust jacket pulled me in enough to start it. I was pleasantly surprised. It isn't a masterpiece, but it kept my interest and left me satisfied. I was even more surprised that it touched upon a couple of personal finance topics that I find near to my heart and I had no personal finance agenda when I started out.
The story covers a business man that finds himself abruptly out of work and decides to accomplish a life long dream of finishing his first novel. The novel lands him a top the bestseller list and he relishes the whirlwind fame while his wife and daughter are left watching his life from a distance. The main character ends up on an unexpected journey to find out what is important to him in the midst of his new found fame and money.
Below is an excerpt that will give you a flavor of the story behind the story. The scene is towards the end of the novel during an interview between the main character and Diane Sawyer with his wife and daughter watching back home. It is the point were he begins to come to the realization that he lost his way, an apology of sorts.
Diane Sawyer – I imagine that your sudden success has been a little overwhelming.
Robert Harlan – It has. In ways I wasn't ready for it. Frankly, if I had to do it over again…I wouldn't
Diane Sawyer – There are probably several thousand aspiring authors watching us right now who would give anything to be in your shoes.
Robert Harlan – I am sure there are. And I don't mean to sound ungrateful. My readers have been great, so have my publisher and agent. But success can be a trap. Maybe someone else could have handled success better. But I lost sight of the big picture. My book is a best-seller for a little while, at least until the next big thing bumps me off, but I will always be a husband. And I will always be a father. If I give up those things for a temporary seat in the musical chairs of fame, then I am a fool.
If you like that type of fiction or those topics interest you, grab a copy from the local library and give it a read. It might just impact your career and your finances.