When I last talked about my future plans I mentioned that I contacted two local schools.
A State School where I'd earn a teachers certificate.
A Private School where I'd become a Rad Tech.
Option #1 would take 3-4 semesters. Option #2 would take 3 years. Option #1 would cost about one third of what option #2 would cost. Option #1 would also make considerably less than option #2 upon graduation.
Hmmmm.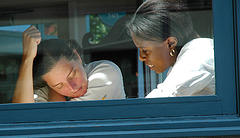 I decided to be a teacher.
Almost everyone who I talked to this last month when I explained my choices has said, "you'd make a good teacher" or something to that effect. I think deep down I've wanted to be a teacher for a very long time. But various reasons have kept me from exploring this idea. I think the lack of pay was the biggest. The next biggest would be my mother.
She would always rant and rave when teachers would be on the news asking for more money (South Dakota ranks 51st in the nation for teacher pay…we must be very proud of this fact, because we've done nothing over the years to change it). I would always take the teachers side of the argument. At the time I thought I was just playing devil's advocate to spice up a boring dinner conversation, but looking back I think there was more there. Interesting…two straight posts with some personal reflection. 😉
At least that is the plan today, it could easily change by the time you read this.
I say it could easily change because there are a few concerns about going this route:
Will we be able to afford me going back to school?
Will I find a job upon graduation that doesn't require relocating?
Will I like it
This first one is my biggest concern (probably because we will face it right away). My wife's wedding photography business if doing great, but I think she's still 9 months away from making "real" money.
I of course will be working while going to school, but part time jobs around here pay peanuts (heck most full time jobs do too). So I'm thinking about applying for a sanitation worker opening that is being advertised currently. This way I could work until next fall when my wife's business should really be going strong and we'd definitely be able to afford sending me back to school.
The second area of concern is also related to my wife's business. She'll make more money being a wedding photographer than I will as a teacher. So it will be stupid if I have to move to get a low paying job that will require her to relocate her business and start from scratch.
The 3rd area of concern is one I have with everything. As I mentioned in a previous post I've never had a job where I enjoyed what I was doing. So now it's a constant worry that I have. But I'm not overly concerned with it this time. So far I've never really had a job that focused on human interaction, and I think that is what I've been missing. Plus the flexibility of two full months off in the summer would be great.
So here I am after 4 weeks still pondering the same basic ideas:
School or Work?
Garbageman or Teacher?
What are your thoughts?
Until next time,
-DD