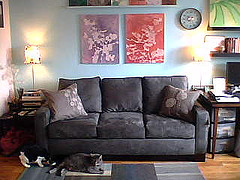 Just like most of you, I peruse a lot of personal finance blogs. Today I came across one that posed an idea that got me thinking.
Not Made of Money posted a nice piece about not buying stuff with a payment mentality.
I left a comment saying that I totally agreed that its a great idea to get rid of payments. But what about interest free payments? I used an example of saving enough money for an $800 item then being offered interest free financing at the time of purchase.
Would you take the offer or pay in full?
In my pre-Happy Rock days I always took the offer.
When my wife's Grandfather passed away, an estate sale was held. The proceeds were then divided up and each grandchild got a check for $600. At the same time, we were looking at a headboard and foot-board set for our bed that, wouldn't you know it, cost $600.
When we went to purchase the set, we took advantage of 6 months interest free plan on purchases over $500. I then paid $100 a month for 6 months and that was that.
Another example was when we built a fence. We were going to use our tax rebate to buy the materials needed to build a picket fence. At the store I noticed that if I signed up for a store credit card not only would I save 2% on the purchase but I'd also get 12 months interest free financing.
So I signed up for the card and paid for my fence over the course of the next 12 months instead of all in one day.
But would I make this same decision today?
I understand there are some pitfalls of the interest free game. In my examples there were minimum payments to be made and if I was ever late I'd have to pay a fee and lose the "interest free" time allotment and have the added cost of interest to deal with. Luckily this never was an issue for me, but I could easily see how this could happen.
But I could also think of a couple of advantages to using interest free credit as well.
Lets say you get a longer period (we once had 30 months "interest free" to pay off our bed) combined with a larger purchase price. If you already had the money saved up, couldn't you use this time to earn a little extra interest while you made payments? I know it wouldn't add up to be much, but I just showed how the little things can make a difference so maybe for some it WOULD be worth it.
The other advantage that came to mind was the piece of mind that the added cash flow could offer someone.  The money may be already spoken for, but it can feel good seeing the higher balance.
Even though I'm now The Debt Defier, I think I might still use interest free when it's presented (Assuming of course that I'd already have saved the amount needed for the purchase). But with my current situation, I don't think I'll be making any large purchases any time soon.
But lets say I was going to be making a large purchase soon, would I be stupid to even think about using an interest free option? Are there some pitfalls that I didn't think of that are associated with this idea? Or perhaps a lot of you take advantage of these kinds of promotions and I'm just late to the party?
As always, I appreciate getting your feedback on this stuff so please let me know what you would do.
Until next time
-DD