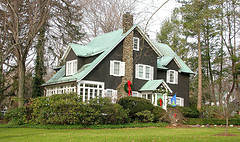 The original filing deadline for the New Jersey(NJ) 2007 Homestead Tax Rebate was on Friday August 15th.  Fortunately New Jersey extended the Homestead Rebate filing deadline until October 31st 2008 for those that missed it.(1)
Homeowners who owned a house in New Jersey before October 1st of the previous year, paid property taxes, and make less than $150,000 AGI are eligible for a tax rebate.   You can view the exact eligibility requirements here on the NJ Taxation website.  Also remember that the NJ State Budget requires that they use the 2006 property tax amount in order to help cut costs. The last couple of years we have gotten back about 20% of our yearly property taxes(~$600), but you can view specific rebate calculations here.
If you think you qualify and haven't received a packet in the mail or have other questions, view the official FAQ for answers.
Source
1. NJ Taxation Site