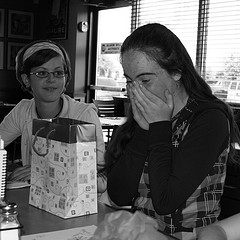 The frugal side of me thoroughly enjoys the weeks surrounding my birthday(August 8th).  Stores and services that I don't normally give money to are willing to give me free stuff just because it is my birthday.  There is something so gratifying about walking into Cold Stone Creamery and walking out with a $6 ice cream without paying any money.
Here is a list of a few of my favorite chains that offer a free stuff for your birthday.
Cold Stone Creamery – Free Love It Size Ice Cream
Baskin Robbins Ice Cream – Free 2.5oz. Scoop
Arby's – Free Beef n Cheddar
Maggie Moo's – Free Cone
Free Greens Fees at local golf courses.  Usually you just sign up at their website and print the coupon that is good one week before and one week after your birthday.  I usually play at two different courses and save $60-80 total.
Those are a list of my personal favorites, but here is a bigger list of birthday freebies.
Anyone else love this as much as me or have any favorite birthday freebies they want to share?